The Spanish football federation's regional presidents have demanded that Luis Rubiales "immediately resign", pulling support for the football chief days after its members heartily applauded his vow to stay on.
On Monday, more than a week after Rubiales grabbed forward Jenni Hermoso by the head and planted a kiss on her lips, the federation's regional presidents were summoned to an "extraordinary and urgent" meeting in Madrid to assess the impact of the crisis.
Six hours later they emerged, publishing a unanimous joint statement: "After the latest events and the unacceptable behaviours that have seriously damaged the image of Spanish football, we request that Mr Luis Rubiales immediately present his resignation as president of the Spanish football federation."
Speaking to broadcaster Cadena Ser, one member of the committee, Manu Díaz de Marcos, said that they had not analysed the idea of a no-confidence motion in Rubiales – a move that could have brought a swift end to Rubiales' reign.
The demand was a seeming reversal from the scene that had played out at the federation's meeting on Friday, where Rubiales, 46, repeated "I will not resign" five times to vigorous applause from the members in attendance. His speech, which railed at "fake feminism", was met with a standing ovation.
Monday's statement, which made no mention of Jenni Hermoso by name, noted that it was time for a "new phase" for the federation, which in the wake of Rubiales' provisionary suspension will be led by his right-hand man, Pedro Rocha, and called for the "deep and imminent restructuring" of the institutional body.
While the statement added that it would "maintain its commitment to continue implementing its investment and equality policies for the development of women's soccer", the regional leader Díaz de Marcos said the meeting did not address whether Jorge Vilda, the embattled coach of the Spanish women's national team, should stay on, despite the fact that he has no team and almost no coaching and technical staff.
The statement leaves Rubiales with few allies. On Saturday, Vilda, along with the men's national team coach, Luis de la Fuente, issued statements condemning Rubiales' behaviour. The statements, coming one day after both of them applauded his speech at the federation, were seen as a sign that Rubiales was becoming increasingly isolated from those who had long protected him. The country's most powerful football clubs, from Real Madrid to Barcelona, have also condemned his behaviour.
On Monday, prosecutors at Spain's top criminal court said they had launched a preliminary investigation into whether Rubiales' unsolicited kiss of Hermoso could constitute sexual assault.
In the afternoon, hundreds of people packed into a central plaza in Madrid, and called on Rubiales to resign. "It's not a peck, it's an aggression," some chanted, as others waved signs reading "Se acabó", or "It's over".
Among those who attended the rally was Yolanda Díaz, the labour minister and second deputy prime minister in the country's caretaker government. "On Friday we saw the worst of Spanish society, of the structural machismo of this country," she had told reporters earlier, in a reference to Rubiales' speech to the federation.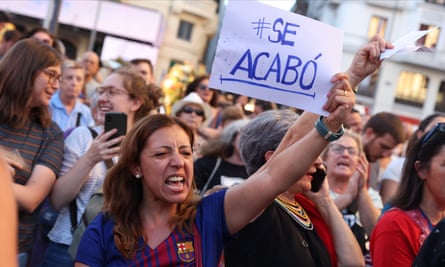 "They clapped and humiliated and made fun of a person they had the obligation to protect under the sports law and far from doing that, they inflicted more damage, more pain, more vexation."
UN spokesperson Stéphane Dujarric also weighed in on the saga on Monday. "There is a critical issue of sexism that remain in sports," he said during the daily press briefing. "How difficult is it not to kiss somebody on the lips? I don't see any indication that anything was consensual.
Rubiales has sought to portray the kiss as consensual, claiming he had asked Hermoso if he could give her a peck and that she had replied: "OK." Hermoso later rejected any suggestion that the kiss was consensual. She described Rubiales's words as "categorically false" and said the "conversation did not happen".
She said the situation had left her feeling "vulnerable and a victim of aggression". In her statement she described the kiss as "an impulsive act, sexist, out of place and without any type of consent from my part. In short, I wasn't respected."
Source link