Mauricio Pochettino will give a handful of Chelsea academy youngsters their first taste of senior football on Wednesday night when he includes them in his squad for the Carabao Cup tie against AFC Wimbledon at Stamford Bridge.
The manager did not want to name them on Tuesday lunchtime, partly because he had not yet told them himself and, as he allowed himself to imagine breaking the gloriously good news to them, it felt like a classic move from him.
Pochettino loves to make connections at a club from the bottom up, to create pathways, to have stars with whom the fans can readily identify. And yet, in his own words, he did not want to be a "hypocrite". It was not primarily about that. This selection, he explained, was born out of necessity.
So there was Pochettino, the frontman for a club that have spent close to £1bn on new signings in a little over a year under the ownership of Todd Boehly and Behdad Eghbali, offering a version of being down to the bare bones.
It is an exaggeration, of course. But as Pochettino sifts through the dizzying churn of players that shows no sign of slowing before Friday night's transfer deadline, he must address an injury crisis that has stripped him of nine members of his squad. They are – from back to front – Marcus Bettinelli, Reece James, Benoît Badiashile, Wesley Fofana, Trevoh Chalobah, Carney Chukwuemeka, Mykhailo Mudryk, Christopher Nkunku and Armando Broja.
One recent signing, Roméo Lavia, is not match fit; another, the goalkeeper Djordje Petrovic, has not had his paperwork confirmed in time. Throw in what Pochettino described as the need for some players to "avoid risk and have some rest" and it is why the academy is set for a boost.
"Because we have many injuries and the squad is not big at the moment, we are going to use four or five young guys from the academy – 17 years old, 16 years old," Pochettino said. "It is about opportunity. It is not because it is our philosophy at the moment. I need to clarify this.
"It's because we need to bring young guys to the first team because we have some players who cannot play. They [the youngsters] will start on the bench. Maybe if it goes well, they will have the possibility to play."
Still, Pochettino knows what good PR looks like, especially after the sales of the homegrown players Mason Mount, Ruben Loftus-Cheek and Lewis Hall. He also seemed to accept that the club's academy needed a lift.
"I know very well from my time at Southampton and Tottenham that Chelsea's academy record was amazing," Pochettino said. "I hope we can change this feeling for the fans in the future. It can be a philosophy of the club. I think always the record was fantastic and we again need to reinforce and energise the academy."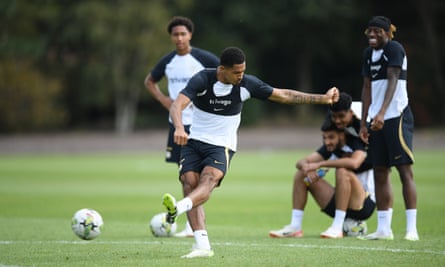 Pochettino called the youngsters into training for the first time on Monday and he said he had asked them how they would feel if they were involved against Wimbledon. "Their eyes go like this," he said, opening his own as widely as possible. "It's an exciting moment for them and the families. It's fantastic for us also to feel that energy."
The Argentinian is taken back to his own first opportunity in the senior game – as a 17-year-old at Newell's Old Boys in 1989. "I remember like it was today," he said. "José Yudica was my manager, I was in training, playing 11 v 11, and I kicked the captain, Gerardo Martino, who is now the coach of Inter Miami with David Beckham and Lionel Messi.
"I remember the captain and the coach said: 'What are you doing, child? You're crazy!' They said to me: 'Two metres! Two metres! You cannot be close. If not, you go home.' I said: 'OK!' Then, when we finished the session, the coach said: 'You will be involved in the squad to play in the derby against Rosario Central.' I made my debut, playing 15, 20 minutes. It was amazing."
Was Pochettino scared to be cast into such a volatile game? "No, I was so brave," he said. "To kick the captain of the team? If you are not brave, you are not going to do this. I think the coach liked this type of situation and the captain, also.
"If you don't show your personality, even if you are 15, 16, 17, 20 … you cannot play at the high level. It's about character and showing you can manage the pressure. You need to feel it and see it in the young guys; then you are going to feel if they are ready or not. Mental quality is the most important thing."
Chelsea continue to work around the clock on transfers, with Pochettino keen to add a versatile attacker. The club have had an approach for Emile Smith Rowe rejected by Arsenal and alternative options include Lyon's Bradley Barcola and Nottingham Forest's Brennan Johnson, who is a target for Tottenham.
Further academy products could leave. Bayern Munich are interested in Chalobah and Conor Gallagher, who has two years left on his contract, while Forest want Callum Hudson-Odoi. Chelsea have priced Chalobah at £50m and are looking for a permanent sale but Bayern want to sign the defender on loan with an option to buy.
Source link