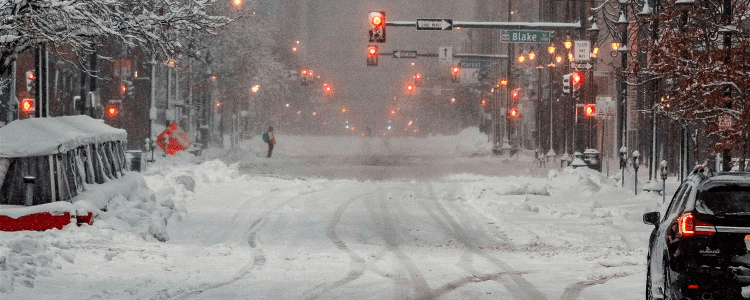 Will you be affected by the big storm coming, either in your travels or at home? What are your best tips on how to prepare for a big storm? I've been seeing a ton of great tips online and thought I'd round some up, but also just start a discussion on what you're doing…
How to Prepare for a Big Storm If You're Worried About Losing Power
charge all your devices and your travel charger(s)
before the storm, unplug or shut down devices that aren't essential
think about what you'll eat if you can't use your microwave and so forth
think about ways you can avoid opening your freezer or refrigerator — for example, you may want to put enough in a smaller cooler for the day.
consider filling a bathtub with water so you'll have enough to flush the toilets – this article from Family Handyman looks like it has good advice on different toilet systems and when this might affect you
if you're expecting or if you receive a big snowfall, make sure your outdoor vents are clear to prevent carbon monoxide poisoning — also, check your carbon monoxide detectors if you can. (If you're traveling, we recently recommended this travel carbon monoxide detector, which has battery backup.) Here's an article from Mass.gov with more info.
How to Prepare for a Big Storm If You're Driving
Hopefully this is obvious advice — here are some more great tips from AAA. My tips:
pay attention to local conditions to determine whether you're going to drive
leave lots (and lots) of extra room between you and the car in front of you
AAA advises to keep at least half a tank of gas at all times
dress warmly – if you tend to run errands without a coat (or you've got an older kid who refuses the concept of coats), rethink that — in case there's an accident you're going to want to be in warm clothes. (But: if you've got littles still in car seats, make sure their seatbelt still fits properly if they're wearing a coat or snowsuit – here's an article from Healthychildren.org that has good advice on snowsuits and carseats.)
How to Prepare for a Big Storm if You're Flying
prepare yourself (and your travel partners) emotionally for the fact that your flight may be cancelled
keep your coat and shoes on the plane with you – even if you're flying somewhere warm, your flight could have an emergency landing somewhere and you'll need them
if you're flexible, see if you can rebook your trip
download the airline's app on your phone for easy rebooking
if your credit card has a concierge service, they might be able to help if you're having trouble through regular means — here's an article from Experian explaining more
How to Prepare for a Big Storm If Your Area Isn't Used to the Cold
I remember this from the years I lived in D.C. — if you live (or are visiting) a climate that is generally warmer, the infrastructure may not be ready for a big storm or its fallout. I randomly saw this 14-Tweet thread from a Houston weatherman, Travis Herzog, with a lot of great tips, including:
prepare to shelter your outdoor pets from the cold
protect your pipes — consider turning off the water to your home and draining the pipes before the freeze begins
filling your tub with water to flush the toilets
Those are the big tips I'm seeing — what are you worried about with the big storm? (Are you worried about extreme weather in general, going forward?) What are your best tips for how to prepare for a big storm?
Stock photo via Stencil.
Source link