"Now you have to stop enjoying and take care of yourself," Dominik Szoboszlai was told by his agent during his summer holiday in Croatia after news of Liverpool's approach. The Hungarian has packed a lot into his 22 years and the moment he knew where he would be heading there was no chance he would want to arrive in England unprepared, especially when the aim is to get one over old friends.
Liverpool moved fast to sign the Hungarian from RB Leipzig, paying the £60m release clause as Jürgen Klopp looked to build a new midfield that could challenge for silverware against Manchester City, and Szoboszlai's former colleagues Erling Haaland and Josko Gvardiol. On Sunday Szoboszlai will travel to Newcastle, who were linked with the midfielder, looking to build on Liverpool's positive start to the campaign.
After last season's underwhelming season, Szoboszlai is here to breathe new life into Liverpool and has already helped earn a draw at Chelsea and victory over Bournemouth. The midfielder's aim is clear: to win the league. "I like to win, I like to do everything for the team," Szoboszlai says.
"If they ask me if I want to win the Premier League, of course I want to win it. If I want to win the Europa League and the FA Cup, the same. Everything we can do this year. I want to win everything because nobody is going to ask you how it feels to be second.
"I always think that way. Even if this is hard and there are very good teams in the Premier League, but we are also very good, we have a very good coach and players. We are going to do our best and at the end I want to be first."
Klopp likes players with a strong mentality and it is easy to see why he targeted one who is confident, sharp, intelligent and quick. Szoboszlai left home at 14 to pursue his dreams with Red Bull Salzburg in Austria and then on to Germany. His father, a former player, trained him from a young age, harnessing his technical skills, something Liverpool will rely on if they are to battle for the title once more.
"It came about really quickly," Szoboszlai says of the move. "It happened in two or three days. I did my things with the club and then my agent spoke to the club and then the two clubs had to figure out how we do it. The manager called me and that was the final decision to say: 'OK, I want to join them.' Because of this energy, what I said before, how Klopp talks with the players, on and off the pitch, so of course I am really happy."
If Liverpool are to finish top of the Premier League, Szoboszlai will need to get the better of one of his best friends – and current neighbour – Haaland. The two played together at RB Salzburg and have been reunited in the north-west of England. Haaland already has one Premier League title to his name and an incredible first season at Manchester City, where he has been joined by another close friend of Szoboszlai's, Gvardiol.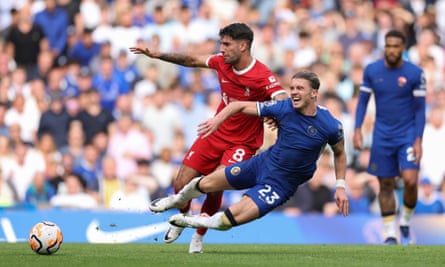 "He [Haaland] is my really good friend but I don't really care about that for these 95 or 100 minutes," Szoboszlai said. "He doesn't care as well, probably. This is normal. I am looking for myself and my teammates to help and if I am going to score a last-minute goal I am even happier."
Szoboszlai and Haaland live two doors apart but are yet to properly catch up and will have to wait until November to face one another in the league. What do they talk about? "You don't have to know," Szoboszlai jokes.
Leaving home as a teenager has made Szoboszlai into a mature and sociable character, quick to adapt to new surroundings. He earned his first international cap at 18 and is Hungary's captain, a testament to his attributes as a player and leader.
After eight years with the Red Bull clubs, Szoboszlai is trying something new. He speaks fluent English but faces the challenge of creating a new midfield dynamic. James Milner, Jordan Henderson, Alex Oxlade-Chamberlain, Naby Keïta and Fabinho have all departed over the summer, while Alexis Mac Allister and Wataru Endo have joined Szoboszlai. How their relationships evolve will be key to Liverpool's chances of success this season.
"It is not only the decision of us [how to play], it is the decision of the coach of how we're going to play and put the team together," Szoboszlai says. "Macca [Mac Allister] is new, I am new, Endo is new. We understand each other really well, even if Endo has only had two training sessions with us and one game. Over time we will be even better, but we will have to see."
Last season Szoboszlai scored six goals and made eight assists in 31 Bundesliga appearances and will be aiming to have a similar impact at Anfield. He is an attack-minded player and felt his manager's wrath in the win over Bournemouth, telling him to drop deeper because Liverpool were down to 10 men after Mac Allister's sending off. Szoboszlai sees himself as a No 8 or 10, offering a wry smile when talking about playing in a more defensive role.
Szoboszlai's sense of humour will certainly help him settle in the Anfield dressing room and how quickly he adapts to a new team and style of play will dictate whether he has the last laugh at a couple of his former teammates' expense come the end of the season.
Source link