Mark Flekken has the ball at his feet. The game between Fulham and Brentford is winding down to a finish, and with Brentford 2-0 up neither team seems in any great hurry to get on with things. The Brentford goalkeeper takes a couple of touches, waits for the picture to assemble in front of him. Twelve seconds later, the ball thuds into the back of the Fulham net.
The events that unfold in those 12 seconds offer the faintest outline of what, exactly, it is Brentford are doing out there. For this is a club of multiple apparent paradoxes. A team that lost their 20-goal striker and not only refused to replace him, but are now scoring more freely as a consequence. A team playing long-ball football with two forwards who are 5ft 7in and 5ft 9in. A team of limited means who in their third season of Premier League football are actually becoming more elusive, not less.
This is a story that begins, in more senses than one, with a gamble. With Ivan Toney banned until January for betting offences, and with no other natural No 9 in the squad, Brentford spent the summer considering their options. Their extensive recruitment team combed through hundreds of available target men. Fans on the message boards feverishly discussed potential signings. When the new season came around, Brentford finally unveiled their replacement. Nobody.
The analysts had crunched the numbers, made an assessment of the market, and decided that in a wildly overheated window the premium for a No 9 who might be first choice for only five months was not a sound long-term investment. "A big thing in football is how cool you can be in the moments where you are losing key players," coach Thomas Frank observed. And as their rivals raced their shopping trolleys around Europe, Brentford decided to keep faith in what they had: two French-born African internationals in Yoane Wissa and Bryan Mbeumo, signed for combined fees of around £15m.
Two weeks in, Mbeumo is the Premier League's top scorer, with Wissa just behind him. Even if you strip out Mbeumo's two penalties against Tottenham and Fulham, he tops the list for expected goals. The upshot is that Brentford have earned 13 points out of 15 since Toney last played for the club. Moreover, a team so often caricatured as a one-man show has subtly discovered other tones and shades, other lines of attack, other ways of winning.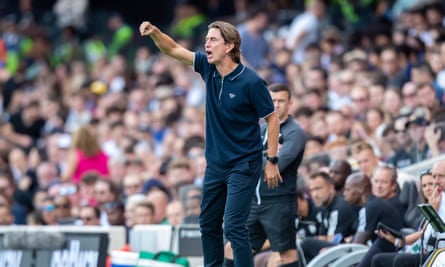 To understand how Brentford have adapted to Toney's absence, let's examine how they played with him in the side. Last season Brentford both contested and won more aerial duels than any other Premier League side. Only Liverpool played more long balls. Plan A: hit Ivan. Surround him with quick, ferocious runners. Feast on the second balls. Unleash chaos. So what happens when you take the man out of the plan?
As it turns out, you cut straight to the chaos. The third goal against Fulham that started from Flekken contained only four passes, none of them going over head height. As soon as Brentford get the ball, they look to release the flying pace of Mbeumo and Wissa, with Rico Henry on the left another frequent outlet. This season, with all the caveats implied by a small data sample, Brentford are spending less time on the ball, passing more accurately, contesting fewer aerial duels, launching more attacks straight through the centre.
This is still, in most respects, long-ball football. But without the aerial presence of Toney, these are balls primarily being played to feet. A good measure of what Brentford are doing differently this season is the number of switches they are playing (defined as a completed pass that travels more than 40 yards across the pitch): again, second only to Liverpool. It was just such a pass from Henry that led to their first goal against Tottenham from the penalty spot.
Wissa, who has played most of his football in Ligue 2 with Lorient, looks like a player on the cusp of a breakthrough season: a winger with the instincts and movement of a striker. Watch Brentford's first goal at Craven Cottage last weekend: a long ball out of defence that Wissa deliberately chooses not to contest. Instead, he positions himself for the second ball, harries and chases after it, squeezes the options until Issa Diop makes the fatal mistake that lets him in. "Wissa has always been a goalscorer," says Frank. "I definitely think he is best as a No 9."
The big question, as Brentford prepare to host Roy Hodgson's Crystal Palace on Saturday, is how their new brand of chase-ball will fare against opponents who do not try to take the game to them. Where Brentford did struggle last season was when they had the responsibility for trying to carve sides open. This is a system being sharpened to a point: even towards the end of their time in the Championship they were beginning to evolve away from a possession-based team to a pure counterattacking force. Which is fine, as long as you have something to counter.
Even so, you would back Frank to find solutions. There is more to come from the likes of Kevin Schade and Keane Lewis-Potter, a potential new signing in Fiorentina winger Nico González, the ever-present threat from set pieces, and of course the return of Toney in the new year. And in a way this has been the story of the modern Brentford: a team forever running, forever being worked out, forever bending itself into new shapes and new forms.
Source link