When it comes to the current Chelsea ownership model it has been easy, and indeed quite comforting, to assume the entire story, from initial purchase price to that lost billion splurged on ill‑fitting new talent, is the product of good old-fashioned footballing idiocy, idiocy on steroids.
A more plausible plan for change, power grab, paradigm shift, would surely come with cleaner lines or at least a set of coherent demands. Super Leagues, breakaways, nation‑state propaganda plots. We know what this stuff looks like. We can denounce it grandly on Monday Night Football, write hand-wringing editorials or come out into the streets to protest in a way that also feels a bit like a fun midsummer booze-up.
Fools, on the other hand … well, we know this world. Here they come, the footballing idiots, air‑guitaring in through the main entrance with nothing to declare but their own frat‑boy hyper‑disruptor genius, hurling armfuls of cash from a chinchilla fur‑lined helicopter gunship, signing Malo Gusto just to watch the world burn. Hello vainglorious spending project my old friend. Join the cue.
Even news on Tuesday of the plan to abolish their subsidy for travelling fans looks, in isolation, like more of the same. The club have decided to scrap a £10 coach subsidy to domestic away games, taking the view, having twice broken the British transfer record on hugely speculative purchases, that supporting travel for the club's supporters is "not financially sustainable".
On the face of it, this seems not just mean-spirited but commercially illogical. Who could seriously see any hard value in saving such a small amount, estimated at £250,000 a season – the equivalent of one week's pay for an unsettled second‑choice centre‑back – in return for alienating the club's bedrock away‑day support? What kind of super-cool disruptor model also chooses to disrupt that key relationship, all the while generating such patently terrible PR for the club? This isn't even part of any wider matchday pricing plan. Chelsea are one of three Premier League clubs, along with Tottenham and Brentford, to have frozen season ticket prices this season.
Unless what we have here is a case of larger priorities flickering into view, an unguarded glimpse of the true nature of this thing, as expressed through the kind of detail that may just as easily have been missed. When someone tells you who they are, via the medium of cancelled supporter bus subsidies, maybe it really is best to believe them.
Of all the latest versions of elite football club ownership – propaganda ploy, cash-raking exercise, soberly tended hedge‑fund asset, Chelsea's model is unique in that it is trying to do something quite hostile and destructive to its host body. For all the mocking memes and the disastrous attempts to build a team, what Clearlake/Boehly are pushing is the most transformative ownership type yet devised. This is arguably the real threat to those elements of value – heritage, legacy, just supporting a team and going to watch them – that have defined English football.
It can be easy to lose sight of what that is. The club is owned by two investment consortiums, one fronted by the public faces of the exercise, Todd Boehly and Behdad Eghbali. Boehly in particular is a smart choice as a frontman, if only because English football understands instinctively the optics of the mercurial figure in the stands.
He may look from a distance like a reassuring amalgam of the various types of charismatic middle-aged football club ownership, coming on like a cross between a dad on a stag do and the kind of hedge-fund billionaire who collects moon-rock chunks and has a bespoke psychedelic humidor in his library. In reality, he is the public face of something with genuinely hard edges.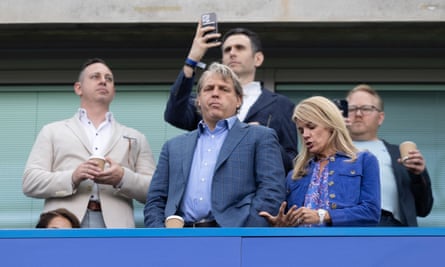 The people involved are far from fools when it comes to money. So why would a group of US financiers whose entire existence is predicated on the ruthless pursuit of value, on being the smartest people in some very smart rooms, decide to make Chelsea FC the most expensive sports team in history? The answer is that they genuinely believe European football is undervalued, that this is an open frontier compared with more regulated US sports. A blinkered and insular place, unaware the unmonetised eyeballs of football's vast global reach are out there just waiting to be harvested.
Crucially, this growth can only be unlocked by tearing up the way the sport has worked, that tired old round of traditional support and set seasonal routines. The status quo is no longer the product. The product is future value. And every choice from this point must speak to that.
To date, this disruption has only been visible in some astonishingly weird movements in the transfer market. From the start, Boehly and Eghbali have talked about reimagining Chelsea as "an engine for football talent development", which sounds fine in principle but a little alien if you're more interested in, say, seeing your team win the FA Cup or forming an oddly personal bond with César Azpilicueta.
But the violence of this process is already clear. Close to £1bn has been spent on transfer fees. Twenty-two of 32 senior Chelsea players joined the first‑team squad in the past year. Most are under the age of 22. Twenty have six-year contracts or longer. This represents the most intense period of player investment seen in European football.
Over that same period Chelsea have won nothing, sacked two managers, fallen out of European competition and sit 10th in the Premier League. The players acquired don't fit any coherent notion of a team. And this is where the harm inherent in this system starts to creep in because even under the assumed terms of engagement – acquire and hoard the best young talent in world football – it seems a fatally naive enterprise.
The fact is, nobody knows what the best talent is. This isn't a draft system. This isn't US sport where competence is far more measurable in numbers and stats. Football is chancy, obscure, chemistry-based, nurture‑dependent. Mykhailo Mudryk is a super-talented footballer in isolation. But he needs tender care, stability and a system to work inside, as does every other young player hurled into Chelsea's human investment portfolio. This is a model that will destroy careers as much as enrich them.
As it will plenty of other things, too. The building of a team, the bond with academy products, the slow‑burn relationship between players and fans over years rather than weeks; all of these things are simply collateral damage in this version of what a talent roster looks like.
As are football's own regulations, with a sense that financial rules can also be disrupted, dodged via clever accountancy protocols or simply absorbed into the business model in fines and sanctions. Rules are for other people. We sail above, towards the only line that really matters, the profit line. Apply all of these filters, factor in the lack of progress on the pitch and the decline in value of every player signed (there are no other Chelseas out there prepared to pay these prices) and it is hard to see any sense in which this project could qualify as a success.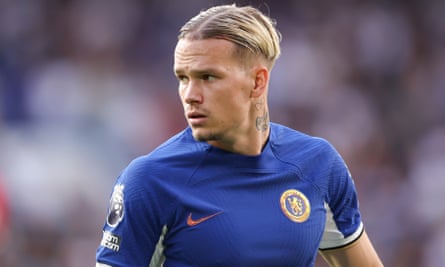 Until, that is, we step into the Todd-verse and set our eyes on that longer horizon. It isn't hard to see a world where the legacy supporter, the subsidised coach traveller, with their growth‑free claim on the future, their ball and chain demands, is more of an obstacle than an enabler.
For all the current mess, the Clearlake-Boehly ownership is undeniably right about some things. The value of Premier League clubs will keep on rising. Some experts have predicted a doubling in value over the next five years. The kind of excess growth that lies in changing the way the sport is consumed. Studies of future club football revenues tend to talk about the "immersive experience", about home consumption with "curated" elements built in, a consumer experience far removed from sitting in one of a limited number of seats or paying a TV company to pump out the same old blanket product.
The same studies suggest the key driver for younger consumers is not the relationship with the club but a connection with star players, who are the future of this sport under the US model. It doesn't matter if any of this is true. What matters is that the people buying into football, buying into Chelsea, believe it to be true.
When the great disruptors say football is undersold this is what they envisage, a broad brush product that can be marketed to 7 billion people, an endlessly replicating stream of sound, light, noise, glitz. And something far removed from the legacy experience or indeed the concerns of those who are, in the end, more likely to object to this transition than buy into it.
Perhaps this is a little alarmist. Perhaps the opposite version is true and Chelsea's owners have no idea of value and are just very bad at signing footballers. One way or another, the endgame looks full of peril. Either this experiment fails and Chelsea's owners decide to cut their losses, leaving a lot of scorched earth. Or it works, successfully reimagines the future and unlocks vast new profits by dissolving the ties that previously bound that thing you liked.
The coach subsidy will remain a very minor subplot. But it's another marker on the way. Never underestimate the power of the money trail or the determination of flamboyant American investors.
Dietrich Bonhoeffer's much‑loved theory of stupidity has always maintained that fools are more dangerous than people with an actual plan. Football's experience from here may just end up pointing the other way.
Source link