Lily Miyazaki has spent much of her professional career on the lower levels of the ITF circuit, usually fighting tooth and nail in front of no more than a couple of committed spectators. The goal has always been to continue rising and, eventually, to settle at the top level of her sport. She has never been closer.
After qualifying impressively for a grand slam main draw for the first time, Miyazaki took a significant step forward as she clinched her maiden win at a major by beating Margarita Betova of Russia 6-3, 6-3.
"I'm kind of lost for words right now," said Miyazaki, the world No 198. "Coming into this tournament I didn't expect to be in this stage, I'm just really happy and proud of myself."
While most of the main draw direct entrants were preparing for the tournament to begin, Miyazaki began her tournament unseeded in the qualifying draw. Three wins later, she moved into a grand slam main draw for the second time after receiving a wildcard at Wimbledon last year.
Betova (née Gasparyan) is a former top-50 player blessed with a sweet single-handed backhand. But she has been on the comeback trail after taking maternity leave while ranked No 100. Since returning in January, she has played infrequently and has yet to win a match, compiling a 0-10 record.
Presented with a great opportunity, Miyazaki made the most of it. At just under 5ft 6in, she is a diminutive player and can sometimes be overpowered. But the 27-year-old is an excellent athlete, her footwork is spotless, she looks to use her opponents' pace by taking the ball early and she possesses a strong topspin forehand. Against Betova, she looked to control the rallies with her forehand from inside the baseline and smothered her opponent's second serve. Miyazaki finished the match with 12 forehand winners.
Miyazaki's path has taken her around the world. Born in Tokyo, she lived in Japan for five years before moving to Switzerland with her parents, Akiko and Yoichi. At 10, Miyazaki and her family moved to London.
After competing as a junior, Miyazaki spent five years at the University of Oklahoma, studying maths as an undergraduate and then management of IT at master's level. Last year, she formally became a British player. Her efforts so far will take her to a new career high ranking of about No 153.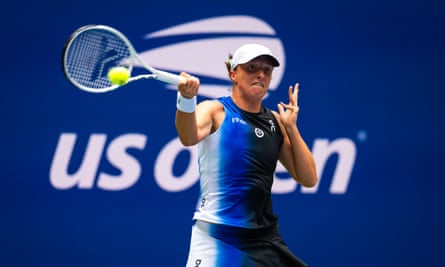 Having earned $349,696 in her career before this week, Miyazaki will also take home at least $123,000, prize money that will make it easier for her to fund her career.
"I think the financial side is huge, because obviously tennis is a very expensive sport," she said. "We travel around a lot. Yeah, maybe now I can travel a bit more with a coach, things like that. Because when I'm playing at the ITF level I tend to travel on my own."
The next challenge will be Belinda Bencic, the Swiss Olympic champion and 15th seed. The pair, born 16 months apart, last crossed paths as juniors in Switzerland.
"I played her when I was about nine years old and she must have been about seven or eight," said Miyazaki. "I remember even back then she was taking the ball so early. Yeah, half-volleying, drive-volleying, everything. Yeah, I expect a really tough match."
Elsewhere, the defending champion and top seed, Iga Swiatek, cruised into the second round with a 6-0, 6-1 win over Rebecca Peterson. She was joined there by her fourth-seeded rival, Elena Rybakina, who similarly eased through by dismantling Marta Kostyuk 6-2, 6-1.
In the men's draw, Holger Rune became the tournament's first major casualty as the No 4 seed was defeated 6-3, 4-6, 6-3, 6-2 by Roberto Carballés Baena. Since reaching the quarter-finals of Wimbledon, Rune has lost his last six singles matches.
Dominic Thiem, the 2020 champion, defeated Alexander Bublik, the No 25 seed, to clinch his first victory at a grand slam tournament since the 2021 Australian Open. Since then, the Austrian has suffered from a serious wrist injury plus the burnout that followed his US Open triumph. Thiem will next play the home favourite Ben Shelton.
"It's a pretty special victory, because it's the first since two and a half years on grand slams," he said. "I think, I don't know, six or seven grand slams without a match win. So it's great. Especially here at the US Open with all the past and all the memories I have here."
Source link