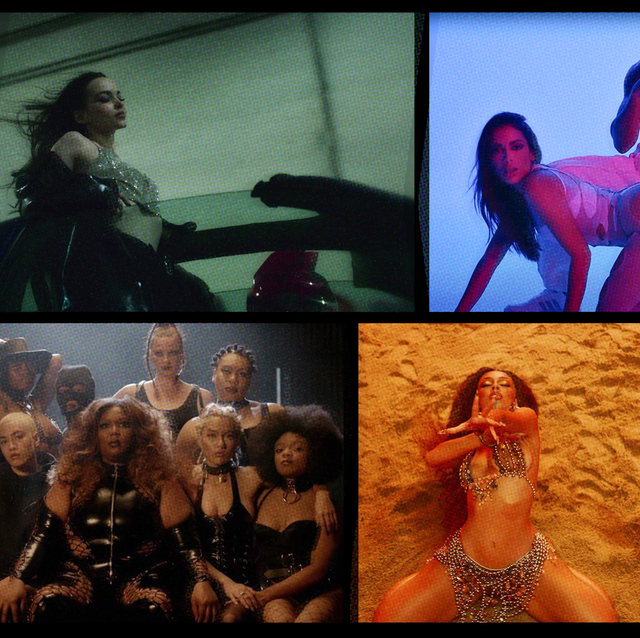 YouTube
Sexiness is subjective, ofc, but sometimes, there's just no denying that something is jaw-droppingly, toe-curlingly, tongue-tyingly hot. Examples: Harry Styles' performance with the green feather boa at the 2021 Grammys. Kim Kardashian's internet-breaking 2014 cover for Paper. Beyoncé, literally always. And while your opinion on the hottest music video ever may not be the same as someone else's, there's no denying that certain videos are just 🔥. From sultry and steamy to straight-up NSFW, the sexiest videos of all time will def have you feelin' a certain way, no matter who or what you're into, trust.
Just like with sweat-inducing movie and TV sex scenes, watching hot people get it on is just that: hot. But music videos don't necessarily have to feature sex or even be overtly sexual for them to turn you on. Suggestive choreography and scandalous outfits can make you feel just as naughty as nudity, and if ya want proof, then we've got the vids for you. Some of these visuals are so hot that they're even age-restricted, sooo def make sure you've got some privacy before you hit play, mmkay? From Cardi B to Enrique Iglesias to Ariana Grande, your fave artists have served up some seriously spicy videos over the years, but these 55 vids maaay just be the hottest videos of all damn time.
Advertisement – Continue Reading Below
"Boyfriend," by Dove Cameron
In this one, Dove Cameron goes on a quest to convince her crush that she would make a better lover than the crush's current boyfriend, and let's just say that she's veeeery convincing.
Lizzo is a sex positive queen, so it's truly no surprise that her video for "Fitness" is positively d-r-i-p-p-i-n-g with sex appeal. Brb, buying an all-leather outfit and some pole dancing lessons.
Hands-down one of the most sensual videos of 2021, Anitta's self-directed visual for "Envolver" features lots of booty, plenty of gyrating, and an introduction to sexy dancer and model Ayoub Mutanda.
"Lights Up," by Harry Styles
If you've ever wanted to attend a sweaty, shirtless, psychedelic orgy with Harry Styles, then watching the video for "Lights Up" is just about the next best thing you can do.
"WAP," by Cardi B feat. Megan Thee Stallion
How can you make a sexy music video round-up and NOT include "WAP"?? It's got squirting statues, scandalous outfits, and sexy cameos galore—not to mention it's a super-fun celebration of female sensuality.
"React," by The Pussycat Dolls
Pretty much everything The Pussycat Dolls touch turns to sexy gold, but their video for "React" proves that—even 15 years after releasing their debut album—they're still the baddest ladies around.
Starring Teyana Taylor (who you might recognize from Kanye West's "Fade" video), this visual masterpiece is like a very sexy version of Dune meets Michael Jackson's "Remember the Time," and it is just *chef's kiss.*
Speaking of "Fade," we'd be remiss not to mention this HIIIIGHLY steamy Flashdance-inspired vid, which shows the very sexy Teyana Taylor gettin' her groove on in a gym (and then later hitting the showers).
"California Gurls," by Katy Perry feat. Snoop Dogg
Ofc "California Gurls" had to make this list. Even more than a decade later, people are still recovering from Katy Perry's memorable whipped cream-squirting bra.
"Señorita," by Shawn Mendes and Camila Cabello
Speaking of sparks flying! Shawn and Camila may be over, but their 🔥 chemistry in "Señorita" forever gifted fans with one of the sexiest music videos of all time.
"Adore You," by Miley Cyrus
If you thought Miley's "Wrecking Ball" vid was scandy, just wait until you watched this ~stripped down~ masterpiece, which gets VERY up close and personal with the pop star.
"Work From Home," by Fifth Harmony feat. Ty Dolla $ign
Filled with short-shorts and hotties with sledgehammers, this incredibly sexy vid has racked up over 2.6 billion (yes billion, with a B) views over the years for a reason: It's HOT.
K-pop vocalist and former Wonder Girls' member SUNMI is a rising star, and her wildly hot Catwoman-esque video for "Tail" proves why.
Hi, remember when Kanye had sex with Kim K on a motorcycle in his "Bound 2" music video? Those were happier days </3.
Inspired by '90s teen flicks, Chlöe plays a sexy Medusa-inspired sorority girl in this wiiiild video for her debut single, which includes tons of cameos and even more outfit changes.
"Curious," by Hayley Kiyoko
What happens when you encounter your ex-GF with her new BF at a house party, only to realize you've still got feelings? Things get real steamy real fast, and that's exactly what goes down in Hayley's video for "Curious."
"El Baño," by Enrique Iglesias feat. Bad Bunny
Enrique always brings the fire in his music videos, but his vid for "El Baño" (which also features the v sexy Bad Bunny) is on a whole other level of sexiness. Just wait for that bathtub scene.
"Womanizer," by Britney Spears
There are legit DOZENS of "wowza" moments in this legendary video from 2009, but it's the scenes of a very naked Britney in a steam room that'll really have you sweatin.'
"Angel Baby," by Troye Sivan
If you're more into sultry and sensual than overtly sexual, then you need to give "Angel Baby" a watch. In the gorgeously cinematic video, Troye heats up the screen with several shirtless hotties, and it's as tender as it is tantalizing.
"Love Sex Magic," by Ciara feat. Justin Timberlake
Not only is this song still a total bop after more than a decade—Ciara and JT also gave us a sexy AF music video to accompany it.
It wouldn't be a sexy video round-up without Queen Bey making an appearance, and while it's hard to pick just one, nothing beats the hotness of "Partition."
"Give It Up," by Nathan Sykes feat. G-Eazy
An underrated video by a seriously underrated artist, former member of The Wanted Nathan Sykes gets down and dirty with a mysterious lover in this one, and it's so racy that it was banned from TV in the U.K. back in 2016.
"Booty," by Jennifer Lopez feat. Iggy Azalea
If you like twerking, tight leotards, and booties galore, then J.Lo and Iggy's music video for "Booty" is an absolute must-watch.
"Body Language," by Big Sean feat. Jhené Aiko and Ty Dolla $ign
Real-life couple Big Sean and Jhené Aiko totally SIZZLE in their sensual vid for "Body Language," which serves as a sexy nod to classic '90s rom-coms.
"MONTERO (Call Me By Your Name)," by Lil Nas X
Nothing says "hot" quite like riding a stripper pole to hell and then giving a lap dance to Satan.
And while we're on the topic of pole dancing, can we talk about Rihanna's epic dance moves and jewel-encrusted bikini in her "Pour It Up" video?
Inspired by the iconic Britney Spears, Kim Petras' "Icy" music video manages to make a glittery ice bath look like the hottest thing ever. Her power!
"Anaconda," by Nicki Minaj
With over one billion views on YouTube, it's pretty clear people can't get enough of this memorable vid, which legit set the internet on fire when it first came out back in 2014.
"Crave," by Years & Years
In addition to being a stunning, otherworldly celebration of all things queer, Years & Years singer Olly Alexander's video for "Crave" is just…whoa. You'll never look at a cat o' nine tails the same way again.
The sexy visual for "Bouncin" takes the title *very* literally with lots of trampolines, balance beams, twerking, and—as you can always expect form Tinashe—absolutely fire choreo.
"Untitled (How Does It Feel)," by D'Angelo
Not many sexy vids center on the male body, but D'Angelo gets REAL up close and personal in the video for this iconic hit—and over a decade later, people are still obsessed.
"Cool for the Summer," by Demi Lovato
Raise your hand if you're still not over Demi's scorchingly hot vid for 2015's "Cool for the Summer." 🙋
"Motivation," by Kelly Rowland feat. Lil Wayne
An oldie but a goodie, the vid for "Motivation" shows Kelly taking part in what looks like an abandoned warehouse orgy populated only by sexy people, so what's not to like?
"Hands to Myself," by Selena Gomez
A timeless bop accompanied by a visually s-t-u-n-n-i-n-g (and undeniably sexy) video—Selena, what did we ever do to deserve you??
"Earned It," by The Weeknd
Released as the lead single for the Fifty Shades of Grey soundtrack, "Earned It" features an appropriately BDSM-themed video, complete with a topless burlesque routine, aerial dancers, and a Dakota Johnson cameo.
"You should be sad," by Halsey
The only line dance night we'd ever wanna attend: the one taking place in the sexy underground country western nightclub in Halsey's "You should be sad" video.
"Love Again," by Dua Lipa
And speaking of country western sexiness! Dua's vid for "Love Again" shows the singer riding a mechanical bull and doing what could quite possibly be the sexiest square dance of all time.
Don't mind us, just watching SHINee's Taemin dance in the rain while wearing a sheer white shirt for the umpteenth time.
Another throwback that will live on in the Sexy Video Hall of Fame forever, Shakira's "She Wolf" video is a tantalizing trip that everyone should take at least once.
If one good thing came out of COVID, it's Kehlani's video for "Toxic." Shot by Kehlani herself from her bedroom, the visual shows the singer smoking, dancing, and singing along to the breakup anthem, and it's…really something else.
"Justify My Love," by Madonna
There's a reason why this video made headlines (and was subsequently banned from MTV) after it was released in 1990: It's *seriously* erotic and 100 percent ahead of its time.
"Monster" by Irene & Seulgi of Red Velvet
Starring two members of the K-pop girl group Red Velvet, Irene and Seulgi, this MV is reportedly inspired by the gothic novella Carmilla, which is a queer vampire romance. Pretty sure that tells ya everything you need to know.
"Trading Places," by Usher
A whole song about woman asserting dominance in the bedroom with a video that shows just that? Yes, pls, Usher.
"cellophane," by FKA twigs
FKA twig's visual for "cellophane" (which many fans think inspired elements of Lil Nas X's "MONTERO" vid) is a sultry, stunning work of art that should be hanging in a damn museum, and that's all we've got to say about that.
"Bitter," by FLETCHER feat. Kito and Trevor Daniel
If you haven't heard of FLETCHER yet, it's only a matter of time before ya do, and this moody, sex-filled vid is the perfect introduction.
"Love Galore," by SZA feat. Travis Scott
While we could have done without the scary old lady at the end of this vid, "Love Galore" is otherwise a total sexy stunner that probs left Kylie feeling just a *lil bit* jealous.
"Side to Side," by Ariana Grande feat. Nicki Minaj
Yet another sexy video that's racked up over a BILLION views (almost two billion, to be precise), "Side to Side" singlehandedly brought sexy back to indoor cycling.
"Wild Side," by Normani feat. Cardi B
Name a hotter duo than Normani and Cardi B in the "Wild Side" video—we'll wait.
This just in: Moms can be hot AF, and Fergie makes this very, very known in this jaw-dropper of a video (which includes cameos from legit every hot mom in Hollywood).
Hello, whoever is still sleeping on Charli XCX needs to wake TF up—and this steamy vid proves it.
"Under You," by Nick Jonas
Before getting back together with his bros, Nick dropped this fire video, which shows him and Shay Mitchell getting suuuper hot and heavy in the shower. Into it!
"Indestructible," by Robyn
Why yes, Robyn's vid for "Indestructible" is, indeed, just a bunch of shots of sexy people having sex, and you won't hear any protests from us!!
"Slumber Party," by Ashnikko feat. Princess Nokia
The vid for "Slumber Party" feels like a sexy, queer Alice in Wonderland fever dream and includes a scene where Ashnikko waves a rabbit vibrator around in the air, so you should probably give it a watch.
"Not Myself Tonight," by Christina Aguilera
This video is so incredibly sexy that it's aged-restricted, which—considering none of these other vids got that slap on the wrist—REALLY tells ya something. Christina has had plenty of ~Dirrty~ moments over the years but this vid is TRULY something else.
"Sexercise," by Kylie Minogue
Yet another age-restricted vid that's just too good not to include: queen Kylie's wildly erotic visual for "Sexercise." Never has an exercise ball looked so good.
Advertisement – Continue Reading Below
Source link