Choosing the color scheme for your wedding day is No. Joke. I mean, I can't speak from experience, but I do spend a fair amount of time on Pinterest and struggle even without a ring on my finger. So cheers to everyone in the deep throes of wedding planning, bc who knew picking out tablecloth shades could elicit such panic?!
The 2023 wedding szn is actually breaking world records in terms of the sheer number of weddings taking place, and it just so happens, according to ~wedding data~, that 65 percent of all weddings are planned for the summer and fall. Plus this year's most popular wedding date? It's September 23rd, 2023. That's right, fall weddings are the most popular of all parties, so there's a bit of pressure to make your celebration stand out. Whether you're A) planning your own nuptials, B) serving as the best MOH the world has ever seen, or C) just casually Pinning wedding stuff for your future big day while you swipe through Hinge, we've got you covered.
Here are 24 stunning fall wedding colors, with plenty of options for whenever you and your boo make it officially official.
More From Cosmopolitan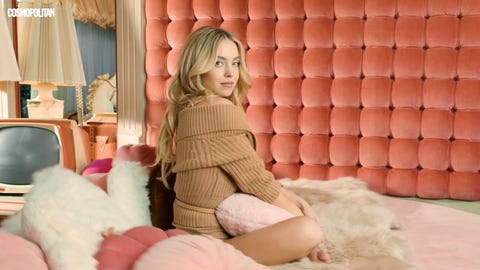 1. Champagne
No matter the season, you can't go wrong with a champagne color scheme. It's the perfect ~neutral~ hue for fall, and if you want to turn things up a notch, add bolder accent colors like salmon, rose gold, or even burgundy if you're feelin' it.
2. Dusty blue and green
This dusty blue color was a big deal for the spring 2023 wedding season, and clearly that trend's continuing right through the fall. The color scheme is proof that your wedding decor doesn't have to be super matchy-matchy. Mix things up using various shades of sage and teal, and give your gals the same color treatment with a wide mix of bridesmaid dresses.
3. Caramel and apricot
Early fall is truly the best season of all, and this caramel and apricot combo goes out to all the hardcore PSL lovers out there. Sprinkle in some apricot shades into your flower arrangements, or weave caramel hues throughout your stationery suite.
4. Black, burgundy, and purple
If rich, deep tones are the desired vibe for your "I dos," may I interest you in this moody tablescape? These would go great with an outdoor wedding or a very rustic theme. Maybe have your bridesmaids in burgundy, groomsmen in black suits, and purple accents in the table decor? Just a suggestion.
5. Yellow shades
Hear me out: Who wants to lose the summer sunshine at your wedding? No one, so let's have the best of both worlds here. Think about using different tones of yellow as a way to brighten up your big day. It also represents happiness, optimism, and hope. Cue the awws. Oh! And the various yellow hues will also match the ~changing~ of le seasons.
6. Black and white
If you're into the very classic and clean look, go for the black and white color palette. It screams sophisticated and chic without going overboard. You can also get creative with it by adding touches of deep, dark florals or incorporating some type of gold sparkle to the mix. There's no way to get it wrong with this color scheme!
7. Warm jewel tones
Get romantic with lush shades of aubergine, marsala, and poppy (yeah, those are their real names). Ask your bridesmaids to pick a dress in one of those colors, and up the ante on an otherwise simple table setting with dark red and purple decorations and florals.
8. Deep green and white
Planning an eek-it's-almost-winter wedding? Bridge the seasonal gap with lush tones of hunter green set against a clean white palette. Best for a modern indoor wedding, leafy touches can be added to tablescapes, aisle runners, and bouquets.
9. Pumpkin, sage, and blush
Lean all the way into autumn with a color palette that matches those insanely gorgeous color-changing trees. Perfect for an outdoor wedding, this scheme brings foliage vibes into your wedding party's day-of looks. You can also add real leaves as a special touch to your cake and signage.
10. Rich purple shades
Feeling royal? Pair your princess-gown-and-tiara moment with a color scheme worthy of Meghan Markle. Go all in on plums and eggplants, incorporating the rich tones into your stationery, florals, and even your signature cocktail (fresh berries, anyone?!).
11. Mustard and natural greens
Take the scheme up a notch with a chic shade of dusty yellow. Best for an industrial venue, the color can be celebrated in sunflowers, wedding party outfits, and stationery. Then pair it with super-soothing greens.
12. Navy and gold
Go classic with timeless shades of navy and gold. Set the sparkly tone with gold foil invites and save-the-dates, and add even more gilded accents to navy place cards and signage. (No one said fall couldn't be glam, bb.)
13. Merlot, peach, and sage
Throwing a rustic hoopla? Opt for a beautiful shade of peach, balanced by deep red and natural green vibes. The complementary trio can be thrown into bouquets and centerpieces—plus, you can even add accents of, you know, real peaches and sage into your passed apps and cake (and obv you can have actual Merlot, especially if you're doing a vineyard wedding).
14. Boysenberry and white
Want the best colors that highlight your once-in-a-lifetime gown? These deep tones will make that white lewk pop. Plus, they're versatile enough that you can have your bridesmaids mix and match their dresses too if you want.
15. Emerald and pink
Rosé season is year-round, ya know. Bring greenery into every touch of your wedding—oh hey, floral print charger plates—and add delicate dahlias into bouquets for a romantic feel. You can keep the whole floral theme grounded in fall with a velvety green table runner, too.
16. Seaside blues and classic maroon
Picturing the sea breeze in your veil as you say "I do"? This darker ocean sitch might be ideal for you, especially if you have a brisk late September wedding date. Take the blues to all your stationery and table settings, and save the maroon for bouquets, ties, and bridesmaids.
17. Hunter green and blush tones
Are you the type to shy away from brighter colors, but don't want to settle for any muted shades? Here's a super pretty middle-ground for you. It'll provide a perfect pop of color that's still seasonally appropriate.
18. Bold orange and deep red
Vibrant tone stans rejoice! This color palette works together flawlessly, and these shades really fit with any pumpkin/fall leaves decor you might wanna incorporate. Also, these are some great color options for bridesmaids' gowns and groomsmens' accessories. Hey, if you're going for fall wedding vibes, why not go all in?
19. Grey and white
This scheme definitely leans on the cooler side of the spectrum, and that's what makes it so special. You can add it to the bouquets and the best part is that it's versatile, whether you're going for an industrial look or more of a romantic ballroom wedding. This vibe is so classic and elegant, it'll def add a sophisticated element to the whole event.
20. Burnt orange and ivory
Looking for a match made in autumnal heaven? It's these shades and your fall wedding. The off-white will complement the main event (the bride obvi) while not distracting too much from the dress. And while the name burnt orange doesn't really sound like the gorgeous color it is, this tone is everything!
21. Rust
That's it. That's the color outline. Throw together the rusty reds, the rusty oranges, and the rusty yellows and you'll witness some gorgeous autumnal cohesion. Think: the changing foliage around late September, and you've got your inspo.
22. Navy blue and white
Don't you love the idea of injecting some nautical vibes into the mix? This marvelous duo would honestly work any time of year, but utilizing it during the fall is almost a nod to the pending winter months without feeling too forced. That said, it could certainly work great for a late fall wedding, like end of November!
23. Emerald and cranberry
This combo is a stunning wink toward the holiday season. The depth of both of these tones is magnetic, plus you can incorporate classic red roses into your arrangements to amp up the romance vibes and still stay in pace with the larger scheme.
24. Chartreuse and white
This array is the perfect fit for weddings set to take place during that early September grey area—you know, when everyone is still clinging to the very last remnants of summer, and they aren't quite ready to let go? Aka, all those weddings set during Labor Day Weekend. A palette like this one perfectly encapsulates the seasonal transition, while not leaning *too* much on brighter tones that occupied all the June nuptials.

Assistant Shopping Editor
Megan Uy is the assistant shopping editor at Cosmopolitan, where she searches for the best products in all things fashion, home, beauty, sex, gifts, and more, so you don't have to. When she's not writing for the site, she's whipping up some cool and trendy content for the fashion section of the print magazine. She's been with the brand since 2019 (when she was an itty-bitty editorial fellow), and she's also written for Delish, House Beautiful, and People. Follow her on Instagram to get some BTS of the editor life and chaotic NYC content. Also, feel free to hit her up if you ever wanna discuss the madness that is TikTok. 

Annabel Iwegbue is an editorial assistant who covers entertainment, beauty, fashion & astrology. When she's not writing, she's either deep in her TikTok FYP or harassing people for their birth chart info. Follow Annabel on Instagram here where her account is mostly dedicated to posting Britney Spears songs on her story.
Source link