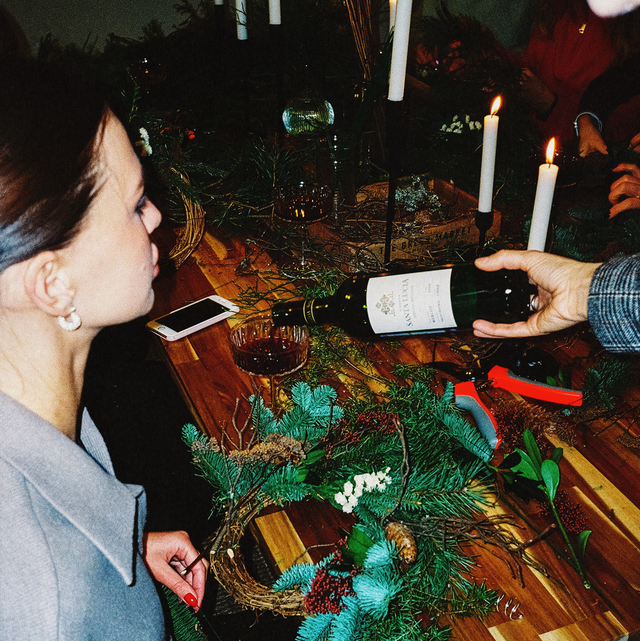 Pexels
The most wonderful time of the year, aka CHRISTMAS, is upon us, which means you officially have a legit reason to watch Love Actually on repeat, play Christmas music nonstop, and drink loads of Christmassy cocktails. Rejoice! Once you've figured out your white elephant gifts (plus what you're getting for your boyfriend, your best friend, the wine lover in your life, your wife, your father-in-law, the list freakin' goes on), you can finally sit down and start planning this year's holiday shindig.
If you're hosting a celebration with (#TeamVaxxed) loved ones, there are plenty of ways to make it a Christmas to remember. And for those of us potentially heading to Zoom for the holidays (it's still a thing!), we've got options for you too.
Whether you're the type to transform into Buddy the Elf the second Thanksgiving is over or your Rising sign is akin to the Grinch, these Christmas party ideas will get you in the spirit of the season. From yummy drink concoctions to creative decoration tricks, we've got you covered with everything you'll need to make your soiree *sleigh* extra hard.
Advertisement – Continue Reading Below
1
Set Up a DIY Hot Cocoa Bar
Hot chocolate just hits sooo different during the holiday season. (In the best way possible, ofc!) Create a make-your-own cocoa station at your pad and maybe even add some bottles of booze—vodka and Baileys are highly suggested—and get your guests feeling super cozy and festive.
SHOP NOW Hot Cocoa Bar Kit, $12.75, Oriental Trading
Move aside the charcuterie board and bring in a s'mores board! Load your wooden tray with the classics—chocolate, graham crackers, marshmallows, roasting sticks, and a portable s'mores stove—and enjoy the sweet treat.
SHOP NOW Ayesha Curry Board, $60, Amazon
3
Provide Some Much-Needed Pampering
Take a second from thinking of the perfect gift for your boyfriend's mom or how the hell to get your ornaments to stop falling off your tree, and have a SPA DAY! This is perfect if you're spending the holidays with your roomies and all feeling the stress of the season. Paint your nails, moisturize your face, and put some cucumbers on those eyes.
SHOP NOW Holiday Sheet Masks, $20, Amazon
4
Family Feud, but Make It Festive
If you're spending the holidays with family, what better way to celebrate than with some family-friendly games?! Unfortunately, Steve Harvey won't be hosting, but you can make your own fun by dividing the fam into teams and competing for something interesting…may I suggest that the losing team has to do all the dishes? That'll up the ante reaaal quick.
SHOP NOW Christmas Family Feud Quiz, $8.45, Etsy
One of the best aspects of the holiday season is the aromatic and festive scents, and candles are a perfect way to get those smells in your home. It can smell like you're baking all the delicious cookies without even turning your oven on! Now that's what I call magic.
SHOP NOW Mulled Cider and Chestnuts Candle, $12, Etsy
6
Hang Some Holiday Decor
Whether your guests will see your background via Zoom only or you're planning on celebrating with your loved ones IRL, decorations are key for a fun holiday celebration.
SHOP NOW Door Hanger, $17, Amazon
Banners are a great way to decorate minimally while taking up a lot of wall space. And they're guaranteed to set a festive mood for virtual or real-life guests. Plus, they make a good picture-taking background!
SHOP NOW Happy Holidays Banner, $16.80, Etsy
Things can get hectic, to say the least, around the holidays, and sending out those cards to loved ones can sometimes fall by the wayside. Set up a letter-writing corner complete with cards from a small business, stamps, and, of course, some pretty pens. Your peeps will be ecstatic when they receive your card in the mail!
SHOP NOW Happy Holidays Postcard Bundle, $12, Etsy
This is a great way to spend time doing something that you know all your friends will enjoy—drinking wine. We may be biased, but they're gonna love every sip.
SHOP NOW Uncorked by Cosmopolitan Tasting Set, $59, Wine.com
10
Upgrade Your Wine to Make Different Drinks
Did you know that you can take any bottle of wine and make it taste better? We laid out all the hacks for you here so you don't have to do any of the research. Mulled wine and red wine hot chocolate are perfect drinks for your holiday parties.
Everyone knows that getting dressed up on the holidays is overrated. Why wear clothes with zippers while eating all the delicious holiday treats when you could be in your comfiest, coziest PJs? Make it a contest to see who shows up with the cutest pajamas to spice things up.
SHOP NOW Women's Pajama Set, $26, Amazon
12
Make It a Movie Marathon
Cozy up with some blankets and snacks and turn your holiday party into a full-blown movie marathon. Order some pizzas, pour some vino, and you're set for the ultimate movie-watching experience.
STREAM NOW Elf, $4, Amazon
13
Set the Tone With Your Invitations
A formal invitation instead of an email or group text will make the event feel more official, and why would you miss out on an opportunity to use a good elf pun?
SHOP NOW Christmas Party Invitation, $6, Etsy
14
Cover All the Art on Your Walls With Wrapping Paper
Okay, now let's talk decorations. Give your art collection (hey, framed posters count) a festive makeover with this easy trick. Plus, you can reuse the paper to wrap gifts for your fam after your party is over. A win-win.
SHOP NOW Wrapping Paper, $10, Amazon
15
Mistletoe, but Make It Portable
Every holiday gathering or Zoom party needs mistletoe, and making it mobile pretty much guarantees that you'll secure a kiss with your loved one. All you have to do is buy some mistletoe and glue it to a rod.
SHOP NOW Mistletoe Kissing Ball, $10, Amazon
16
Order All the "Get Lit" Party Products You Can
Fun and festive napkins are a M-U-S-T for any celebratory occasion!
SHOP NOW Get Lit Christmas Party Napkins, $11.90, Etsy
17
Make a Grinch Cocktail
18
If You're Gonna Go the Ugly Sweater Route, Do It Big
Because nothing says "happy holidays" like a cheesy-AF sweatshirt. The punnier, the better, IMO!
SHOP NOW Christmas Sweater With Stuffed Moose, $64.95, Ugly Christmas Sweater
19
Throw a White Elephant Party
Have each friend bring one gift (if you need white elephant gift ideas, we gotchu) so that everybody gets a lil somethin'! I say go for this dainty personalized necklace—maybe choose a fun word!—that's both affordable and super cute.
Shop Now Personalized Necklace, $25, Etsy
20
Play "Never Have I Ever" With Candy Canes
No, I haven't lost my mind, it's a real thing! It works just like the famous game, except you attach a "never have I ever" prompt to each candy cane with red ribbon and then place the sweets in a jar or cup. When it's your turn, pull out a peppermint and pose the question to the group. Whoever hasn't done the act in question gets the treat (yes, you'll need to have more candy canes stashed on the sidelines), and the person with the most candies at the end of the game wins. Or loses. Depends on how you look at it!
SHOP NOW Candy Canes (24-Pack), $23, Amazon
21
Or Play This "Naughty or Nice" Game
The game is mostly naughty. But hey, that's what makes it fun, ya know?
SHOP NOW Hot Seat Game, $24.95, Amazon
22
Obviously, There Needs to Be a Christmas Party Playlist
If Mariah Carey isn't on repeat, is it even Christmas? THE ANSWER IS NO! I went ahead and made you a holiday playlist on Spotify, feel free to Venmo me whenever.
23
Christmas-Themed Karaoke Night!
Okay, I'm not saying you should invest in a karaoke machine for your apartment, but I'm also not not saying that, ya know? I'm willing to guess that you'll get use out of it year-round. Just saying.
SHOP NOW Portable Karaoke Machine, $140, Amazon
Advertisement – Continue Reading Below
Source link