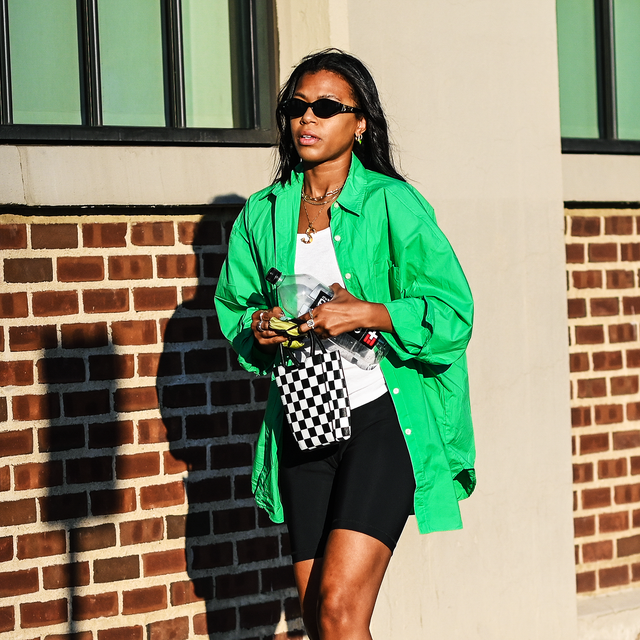 Getty Images
It's been over 30 years since the '90s first started (!!), and everything from the era is starting to feel brand-new again. All the looks you loved back then—or covet now while binge-watching old sitcoms—are officially back and more stylish than ever. Think: spaghetti straps and bucket hats along with knee socks and fanny packs. All of these iconic looks are majorly resurfacing, proving how the decade revolutionized the fashion industry and continues to inspire us. Just take a peek at your TikTok FYP or Instagram feed and you'll probably see all your fave celebs (and influencers) wearing these throwback looks. There's no doubt about it: '90s fashion trends ~are~ the moment.
So for those who wish they lived through the '90s and those who actually did (but maybe wanna choose a different aesthetic this time around), we've rounded up the most popular '90s trends that are currently making a comeback. From cropped cardis to slip dresses, there's no shortage of outfit inspo. And as a bonus, you'll find ways to snag each trend for your own closet, too. (You're welcome!) What ya waiting for? Scroll through to see which of your favorite—or most reviled—trends are new again.
Advertisement – Continue Reading Below
Fashion seems to have an on-again, off-again relationship with the cardigan. But in the '90s, there was nothing like an easy cardi to throw over your shoulders in case your spaghetti straps or slip dress got a little chilly.
Fast forward to now, and celebs like Kendall Jenner are wearing 'em cropped or only partially buttoned to show a lil skin. Paired with some wide-leg jeans or a pair of low-rise pants (!), and you're set.
Cardigans
Song of Style Juliet Cardigan
Cardigans
Eloquii Ribbed Cardigan
Remember Kate Moss's iconic sheer dress from 1993? It'll definitely go down in fashion history—but it's not retiring anytime soon. Brandon Maxwell brought back the legendary look for his Fall 2020 during NYFW in February.
Get excited, because 2023's take on the trend is just as epic, and offers both neutrals and bold hues. You'd be surprised at just how wearable sheer dresses really are!
Sheer Dresses
Farai London Mona Midi Dress
Sheer Dresses
Miaou Thais Dress
Those '90s school-girl knee socks were another look made famous by Cher in Clueless. High-fashion brands like Prada created an updated version of the trend that is a whole 'fit in itself.
We're also seeing them come back in a big way, thanks to prep-core style as seen in the reboot of Gossip Girl. After all, what wouldn't look chic with designer loafers or luxe heels?
Knee Socks
Natori Crystal Sheer Knee High Socks
Knee Socks
Torrid Cable Knit Knee-High Socks
If you didn't have the chance to explore your inner punk during the '90s, get excited because chunky leather and chain chokers have made a triumphant return in recent years—take, for example, Christian Siriano's Fall 2020 collection.
You can go bold or keep things simple and sleek with a choker. Either way, rest assured these babies add some edge to any ensemble.
Leather Chokers
Manokhi Ring Detailing Choker
Leather Chokers
Vanessa Mooney The Alice Choker
Hair accessories were HUGE in the'90s, and thick headbands were everything. Beanie Feldstein rocked a satin one at the 77th Annual Golden Globe Awards, reviving the thick headband trend and sending us all into hair-sterics. (Sorry for that one.)
Whether you're into bedazzled bbs or classic, chic looks that'll go with a designer gown, you'll find options for every mood in 2023.
Thick Headbands
Loeffler Randall Crystal-Embellished Braided Headband
Thick Headbands
Lele Sadoughi Cosmos Crystal Moon Alice Headband
In the '90s, you'd be hard-pressed to find anyone who didn't own a pair of these fresh slides—and now you're probably wishing you didn't get rid of yours. They've been spotted on models from Gigi Hadid to Suki Waterhouse (pictured here).
They're so much more than a shoe you'd wear to meet up with friends at the pool, too. When it's warm out, Adidas slides add a sporty flair to any lewk.
Adidas Slides
adidas Adilette Shower Slides
Adidas Slides
adidas Adilette Lite Slides
ICYMI, hair clips are back in a big—nay, huge—way. And in the '90s, these babies were the ultimate chic hair accessory. (Jennifer Aniston's character Rachel Greene, in Friends, was an avid fan.)
Once they were spotted in the wild at Alexander Wang's Fall/Winter '18 show, there was no stopping the resurgence. The trend just keeps getting bigger and bigger, with everything from minimalist designs to seriously quirky clips available.
Claw Clips
Kōv Essentials Daily Clip
Claw Clips
Chunks Jumbo Claw in Glossy Glitch
In the '90s, bike shorts were perfect for wearing in or out of the gym, and had quite the celeb cred, too: Madonna and Princess Diana were fans of the style. The sporty, stretchy style has recently been welcomed back into the fashion fold, thanks to the likes of Kim Kardashian and Off-White—Naomi Campbell modeled a white pair at the brand's Spring 2018 runway show.
Whether you style yours with a tee and blazer or go for an oversized sweatshirt, it's so easy to turn this activewear trend into an IG-ready 'fit.
Bike Shorts
Good American Thermal Bike Short
Bike Shorts
Eleven by Venus Williams Retro Revival Biker Short
Bucket hats were one of those divisive trends circa the '90s—you either really loved them, or wouldn't be caught dead wearing one. But whatever your stance, just know that they appeared at Lacoste's Fall/Winter 2018 show in Paris, and have only soared in popularity since then.
In 2023, bucket hat iterations include everything from fuzzy, teddy bucket hats to low-key elegant versions in silk and other luxe fabrics. You really can go casual or ~fancy AF~ with these.
Bucket Hats
BEIS The Bucket Hat
Bucket Hats
Fiorucci Icon Angels Light Vintage Bucket Hat
Cargo pants had so many extra pockets (usually secured with velcro) that you didn't even need a purse. Bonus points if yours were camouflage print. Bella Hadid rocked a pair with a cropped jacket while out in New York City, and she's really made a case for the style's comeback.
You'll also notice a ton of other cargo styles popping up lately, too—like jumpsuits, shorts (really!), and even sweats with pockets. No matter how you felt about this trend back then, it's kinda hard not to love 'em now.
Cargo Pants
Good American Crossover Cargo Pants
Cargo Pants
Superdown Rachel Cargo Pant
Exaggerated cat-eye frames really peaked in the '90s, as a nod to the glam specs shape's popularity in the '50s. Now, the style is once again very much in, more modern, as evidenced by this tortoiseshell pair Selena Gomez paired with a navy off-the-shoulder dress.
Because this style continues to be such a classic, though, you'll have no trouble finding plenty of options from all your fave sunnies brands. And if you want to really embrace the '90s, try an itty-bitty pair that barely cover your eyes.
Cat-Eye Sunglasses
Le Specs Aphrodite Alt Fit
Cat-Eye Sunglasses
Coco and Breezy Serendipity
12
High-Waisted Mom Jeans
Mom jeans are back and better than ever. The high-waisted baggy style has been popularized again thanks to street-style stars, models like Gigi Hadid (pictured here), and clothing brands.
Despite all the times the pants have been the butt of fashion jokes, the silhouette is actually v cute. And as wide-leg pants continue to reign, rest assured this trend is going nowhere.
High-Waisted Mom Jeans
Everlane The Way-High Jean
High-Waisted Mom Jeans
H&M Mom High Ankle Jeans
Who could forget Cher's iconic yellow plaid blazer and skirt set from Clueless? Countless brands have included matching patterns on the runway in recent years, like the Fall/Winter '18 collections of Michael Kors and Versace (pictured here).
As younger generations discover the iconic film, too, this trend continues to pop up from year to year. Combined with 2023's obsession with suiting, it's the perfect look to try this year.
Matching Plaid Sets
Cider Pineapple Pie Plaid Skirt
Matching Plaid Sets
Eloquii Long Strong Shoulder Blazer
Black combat boots (specifically Dr. Martens) were *the* footwear trend of the '90s—also popularized by the grunge scene of the decade. Whether you pair 'em with ripped jeans, fishnet tights, or a floral mini dress, you can't go wrong.
Pro tip: Make sure you give yourself ample time to break a pair in before expecting them to be comfy.
Combat Boots
Dr. Martens 1460 Combat Boot in Black
Combat Boots
Sam Edelman Garret Combat Platform Boot
Fanny packs bore the brunt of many fashion jokes, but in the '90s they were revered as a brilliant way to carry all your sh*t hands- free. Today, these genius belt bags are back with a vengeance, spotted on everyone from style bloggers to Kendall Jenner.
Plus, if you're not a fan of wearing 'em around your waist, switch it up and go for a crossbody look—another v popular trend at the moment.
Fanny Packs
BAGGU Fanny Pack
Fanny Packs
Yvonne Koné Yari Leather Belt Bag
If you had vivid memories of getting ready for elementary school, you likely remember throwing one of these babies in your hair. Maybe you've been having deja vu in the last couple years (in a good way) as scrunchies have fully re-entered the chat. I mean, how cute is this matching polka dot situation from Maryam Nassir Zadeh's Spring/Summer '18 runway show?!
As time elapses, though, we're seeing folks lean more into both silk scrunchies and organza versions, rather than sticking to cotton options. Why not go for luxury, right?
Scrunchies
Bien Abyé Assorted 3-Pack Silk Scrunchies
Scrunchies
Emi Jay Sweet Dreams Lavender Silk Scrunchie
Delicate slip dresses were a staple in every '90s girl's closet—just ask Kate Moss and Courtney Love. Today, everyone from Hailey Baldwin to Emily Ratajkowski (pictured here) are fans of the style, which often is paired with layered choker necklaces—another very '90s look.
Slip Dresses
Karen Millen Curve Hammered Satin Cowl Woven Slip Dress
Slip Dresses
House of Harlow 1960 Ruthie Midi Dress
Spaghetti-strap tops and dresses were worn to elegant soirees (à la Gwyneth Paltrow's 1999 Oscars ensemble) and were the "going out" style of the '90s. The trend has been popping up on celebrities (like Jordyn Woods, shown here) and quickly is making its way to the fashion fore again.
You'll see the trend pop up a lot in the form of lingerie-inspired camis—which make for versatile wardrobe must-haves you can wear to work or at the bar.
Spaghetti Straps
River Island Plus Black Satin Cowl Neck Cami
Spaghetti Straps
CAMI NYC Everly Cami
Denim overalls were a hit back when Mary-Kate and Ashley Olsen were still on television. Those were the days, right? Now, designers are offering up more stylish versions, like the oversized number Sofia Richie's wearing here.
For 2023, skip any skinny-leg overalls and opt for wide legs or bootcut for an especially on-trend look.
Denim Overalls
Everlane The Denim Overalls
Denim Overalls
Old Navy Baggy Wide-Leg Non-Stretch Jean Overalls
Flannels were worn as shirts, but most often tied around the waist as a trendy '90s look. Here, Hailey Bieber puts a modern spin on the classic style by pairing it with denim cutoffs and black ankle boots.
The trend shows up a lot, too, in the form of shackets—which look great as an oversized top or over a cropped tank.
Flannel Shirts
Madewell Plus Twill Flannel Windowpane Plaid Shirt-Jacket
Flannel Shirts
Steve Madden Harper Shacket
Velvet was another trend that was popular in the grunge era, but it's since resurfaced with an elegant twist on tailored coats, dressy pants, wrap dresses, and more.
You've probably been seeing it pop up during the holiday season and throughout winter months, but guess what? The plush material is actually wearable year-round. (Yes, really!) Velvet blazers or bodysuits make great additions to your everyday wardrobe.
Velvet
Lulus Mauve Velvet Long Sleeve Tie-Front Bodysuit
Velvet
Eloquii Velvet Tuxedo Trouser
Advertisement – Continue Reading Below
Source link