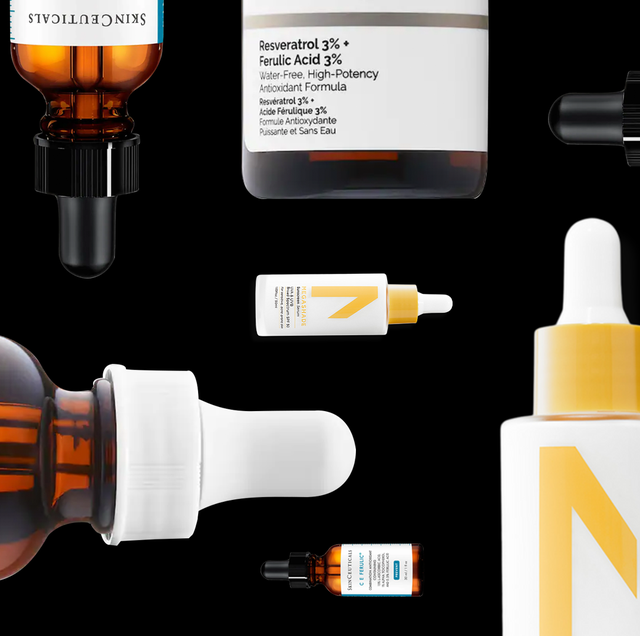 Courtesy Image | Khadija Horton
It's almost 2023, and by now, I'm willing to bet that you've seen or heard of ferulic acid, especially because it's almost always found alongside its BFF, vitamin C. But as for wtf a ferulic acid serum actually does? That's where I come in. Ferulic acid, for the ~uniformed~, is an antioxidant that helps protect your skin from environmental damage (i.e., free radicals) by neutralizing the threat before it reaches your skin cells. Basically, it's a shield for your skin against premature fine lines (like forehead wrinkles and stress lines), dark spots, irritation, and more.
Ferulic acid is also known for increasing the efficacy of other antioxidants it's paired with, including vitamin C, niacinamide, and vitamin E, which is why every ferulic acid serum on the market has at least one (to a dozen) other antioxidants in the formula. So how do you know which one is best for you? Welp, I chatted with board-certified dermatologists Jeannette Graf, MD; Kim Nichols, MD; and Karan Lal, MD, on the best ferulic acid serums of 2022 and 2023, below:
Our top picks for ferulic acid serums in 2023:
Now keep reading for the full list of tested and reviewed winners, then scroll down for answers to all your questions, like how to choose the best ferulic acid serum for your skin type, which ingredients do what, and how it works.
Advertisement – Continue Reading Below
1
Best Overall Ferulic Acid Serum
SkinCeuticals C E Ferulic
2
Best Ferulic Acid Eye Serum
Dr. Dennis Gross Advanced Retinol + Ferulic Triple Correction Eye Serum
3
Best Ferulic Acid Serum with Sunscreen
ZitSticka Megashade Breakout-Proof SPF Serum
4
Best Ferulic Acid Serum on Amazon
InstaNatural Vitamin C Serum
5
Best Drugstore Ferulic Acid Serum
The Ordinary Resveratrol 3% + Ferulic Acid 3%
6
Best Ferulic Acid Serum for Dark Spots
Peach & Lily Transparen-C Pro Spot Treatment
7
Best Vitamin C Ferulic Acid Serum
Timeless Skin Care Vitamin C And E Ferulic Acid Serum
8
Best Clean and Natural Ferulic Acid Serum
Mad Hippie Vitamin C Serum with Vitamin E
9
Best Firming Ferulic Acid Serum
Versed Auto-Save Advanced Restoring Serum
10
Best Oil-Free Ferulic Acid Serum
Acure Brightening Vitamin C & Ferulic Acid Serum
11
Best Hydrating Ferulic Acid Serum
Kypris Natural Antioxidant Dew Facial Serum
12
Best Ferulic Acid Serum for Acne
Urban Skin Rx Pro Strength Super C Brightening Serum
13
Best Ferulic Acid Serum for AM and PM
Paula's Choice C15 Super Booster
What does ferulic acid serum do?
Ferulic acid is a "plant-derived antioxidant that helps neutralize the free radicals that can lead to premature signs of aging," says Dr. Nichols. As a reminder, free radicals are cell-damaging molecules that come from UV rays, blue light, environmental pollution, and smoke exposure (all things we face on a day-to-day basis) and can contribute to fine lines, wrinkles, laxity, discoloration, and even skin cancer.
Ferulic acid—and all antioxidants—helps scatter and disperse these free radicals, protecting your skin from further damage. And, says Dr. Nichols, ferulic acid enhances the effectiveness of other antioxidants, including vitamin C and E. That's why you'll almost always find the powerhouse trifecta together in ferulic acid serum. As Dr. Graf puts it, ferulic acid helps other antioxidants "pack their mightiest punch."
Which is better: hyaluronic acid or ferulic acid?
Just because hyaluronic acid and ferulic acid both have "acid" in their name doesn't mean they're similar. In fact, they're fundamentally different ingredients with entirely different duties. "Hyaluronic acid is a powerful natural humectant that provides long-lasting hydration to help soften skin texture," says Dr. Nichols, which is why it's often paired with other moisturizers like almond oil, while ferulic acid help prevent damage to keep your skin (and its texture) healthier.
The tl;dr: "Ferulic acid is more of a preventative ingredient, while hyaluronic acid is more of a corrective ingredient," she says.
Does vitamin C serum need ferulic acid?
No, your vitamin C serum doesn't need ferulic acid on its ingredient list, but it does work more effectively when included. Ferulic acid boosts—and speeds up—the benefits of vitamin C and also helps it last longer. "Vitamin C goes bad quickly if not paired with other ingredients that stabilize it," says Dr. Graf. "When used together, ferulic acid helps stabilize vitamin C and keep it effective."
How to choose the best ferulic acid serum:
Consider your skin type
The first step to finding the best ferulic acid serum is to focus on your skin type and what it needs. If it's dry, stick with products that contain moisturizers, like oils and cream-like formulas, while oily skin types should stick with sheer serums and lightweight hydrators, like hyaluronic acid, glycerin, allantoin, etc. Got sensitive skin? Avoid fragrance and essential oils, and look for gentle, low-dose ingredients (like vitamin C derivatives).
Check the label
Even though many antioxidant serums contain the same ingredients, they're each formulated in different concentrations, which makes them more or less intense. So check the label: If ferulic acid (or vitamin C, retinol, salicylic acid, etc.) is in the first few ingredients on the list, you know the formula will be a bit more potent (and effective). If they're toward the bottom of the list, you can assume the product will be a bit gentler and easier to tolerate for sensitive skin (but, of course, also less effective).
Investigate the packaging
Dr. Lal recommends choosing a ferulic acid serum in a vacuum-sealed pump or opaque packaging to prevent it from oxidizing as quickly. "Many brands package their serums with droppers, which don't last as long because they lose efficacy upon exposure to air," he says. "If you notice your serum changing color and getting darker, it's an indication that the product is undergoing oxidation, and it might be time to replace it."
Kim Nichols, MD, is a board-certified dermatologist and founder of NicholsMD and SkinLab in Greenwich, Connecticut. Dr. Nichols specializes in both cosmetic and medical skincare concerns.
Jeannette Graf, MD, is a board-certified dermatologist and assistant clinical professor of dermatology at the Mount Sinai School of Medicine.
Karan Lal, MD, is a board-certified dermatologist and the director of cosmetic dermatology at Affiliated Dermatology in Scottsdale, AZ. Dr. Lal specializes in pediatric and adult dermatology, laser surgery, and treating skin of color.
Why trust 'Cosmopolitan'?
Marisa Petrarca is a contributing beauty writer for Cosmopolitan with over five years of experience researching and writing about makeup, skin, and hair, ranging from how to clean your makeup brushes to face fillers. She discussed ferulic acid serums with the three dermatologists featured in this story and dove into reviews and research on top-rated ferulic acid serums to recommend the best products.
Advertisement – Continue Reading Below
Source link