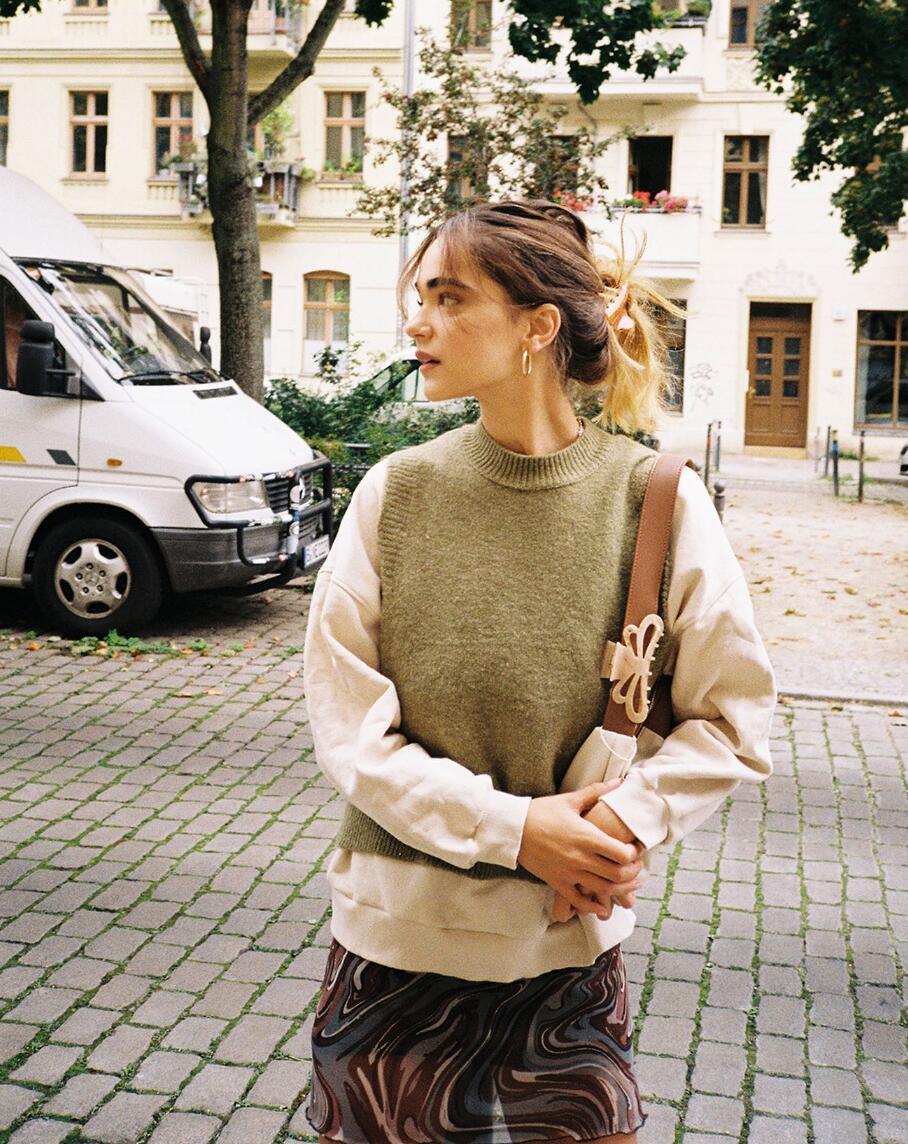 There's so much variety and color this fall – you need to get up-to-date and fast! Smarter clothing is starting to inch its way back into our wardrobes. And that trend includes spiffy, split-hem trousers that will be huge next year!
Mono-chrome athleisure suits
Mono-chrome athleisure suits and matching jeans and tops are everywhere. And we're definitely not ready to give up our cosy, fall sweat suits and white trainers. Ankle boots will be big again this fall and winter, of course, but stick with your comfy trainers as long as possible, until it get cold and wet underfoot!
Textured sweaters & corduroy
Texture is a very important part of the new fall collections and this is especially true of ribbed sweaters and knitted vests. Corduroy, needlecord and colored denim are also highly popular for autumn and allow us to wear some really gorgeous jewel colors.
Super new shackets
And in this fall's fashion world, the 'shacket' is the best investment you can make to update your whole outfit in an instant! Believe me, there's plenty to see in this gallery of top fall fashion trends, so pull up your chair and let's go!
1. Fabulous split-hem trousers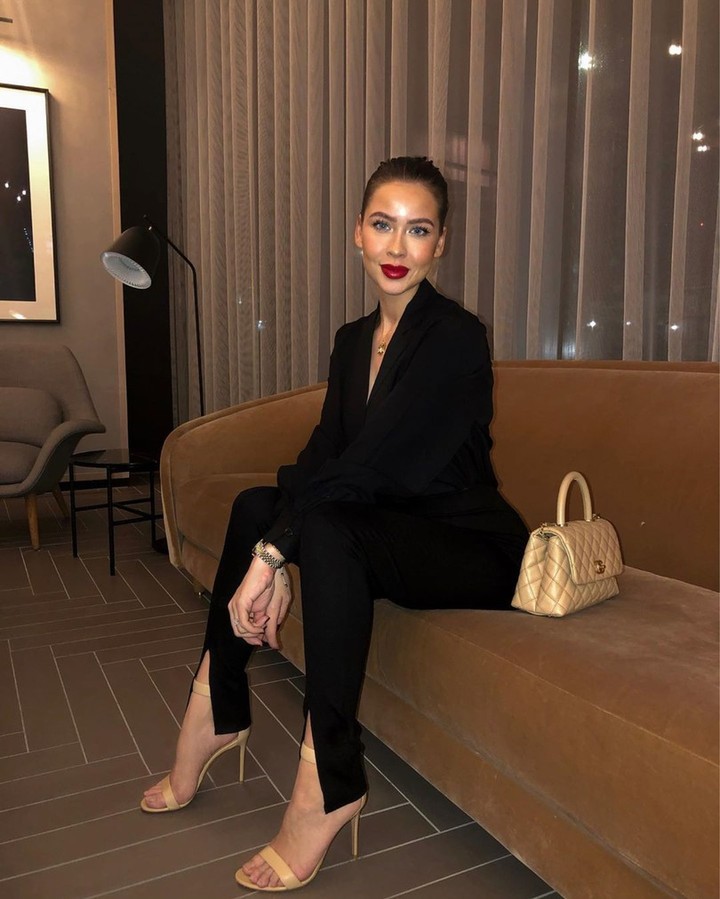 Split hem trousers is such a popular trend already, that we are likely to see many different types of pants with this new fashion feature next year. I've already seen leather, denim, black crépe and bell-bottomed jeans with split hems, as this is a trend that appeals to all fashion tribes.
And that's because it's so different! And not only that, if you have difficulty getting trousers that are the correct length for you, you'll find it far easier with split hem trousers that can finish around the top of the foot or longer!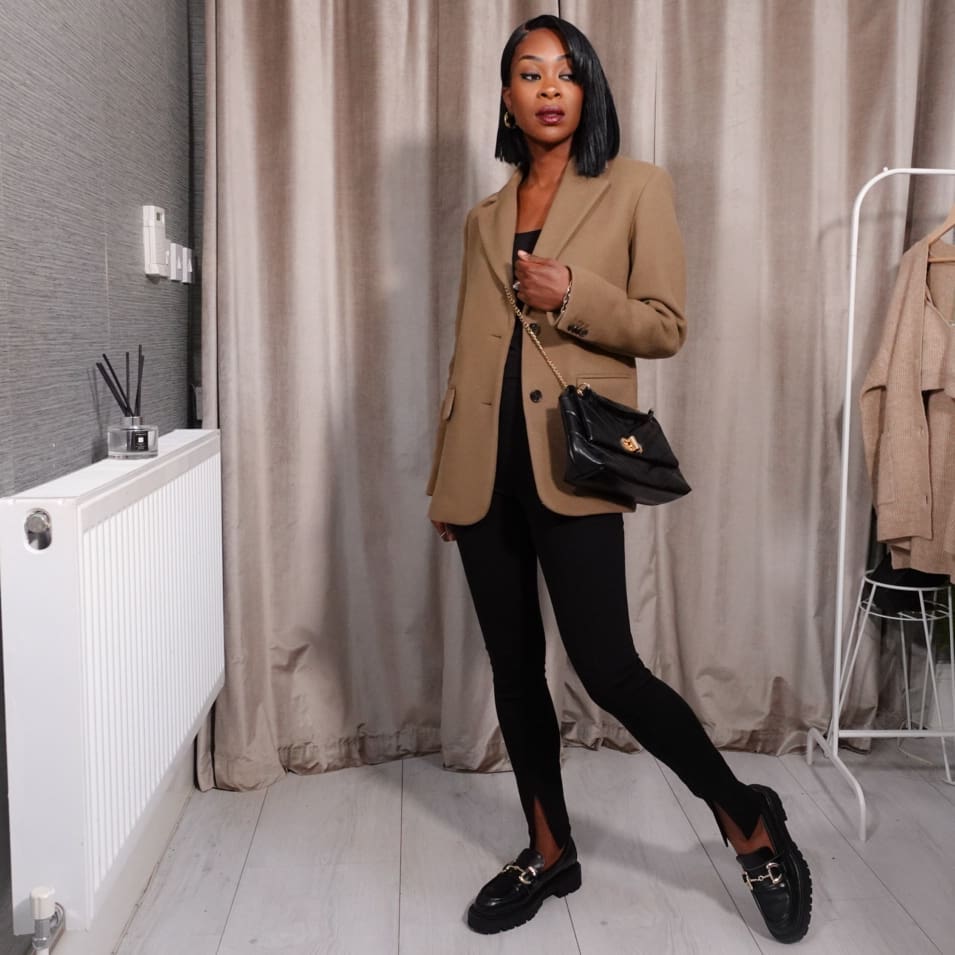 And as you can see, split-hem black trousers are going to be one of those beloved staples that make chic outfits for lots of different fall and winter occasions!
2. The cozy but light shacket fall trend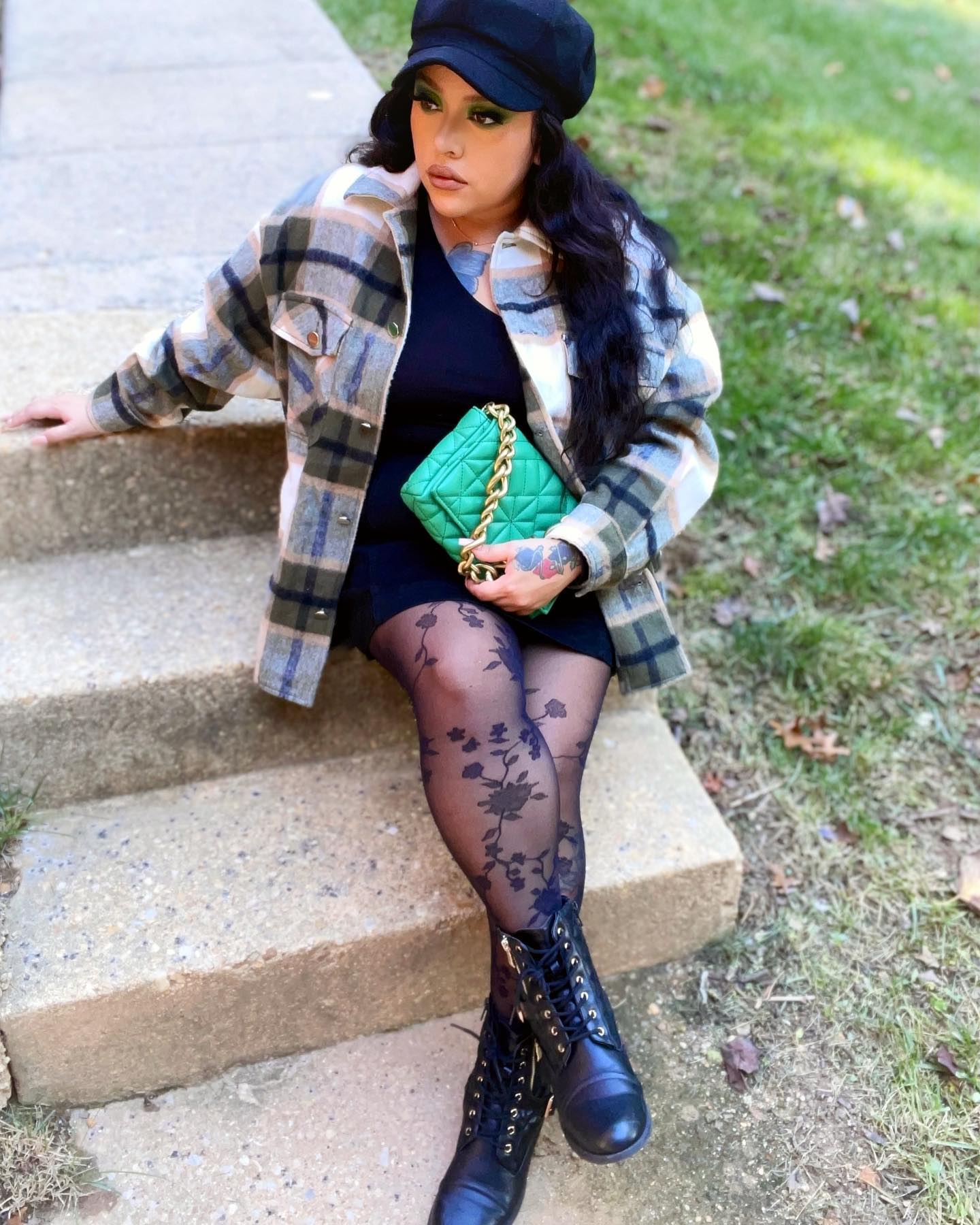 The shacket is a fabulous blend of traditional checked, flannel shirt and a jacket, that warm, light and comfy. It helps you ease into winter wear, and is a really fabulous statement piece for fall. This is the short version, but it's so popular there are already long versions available in lots of different fabrics!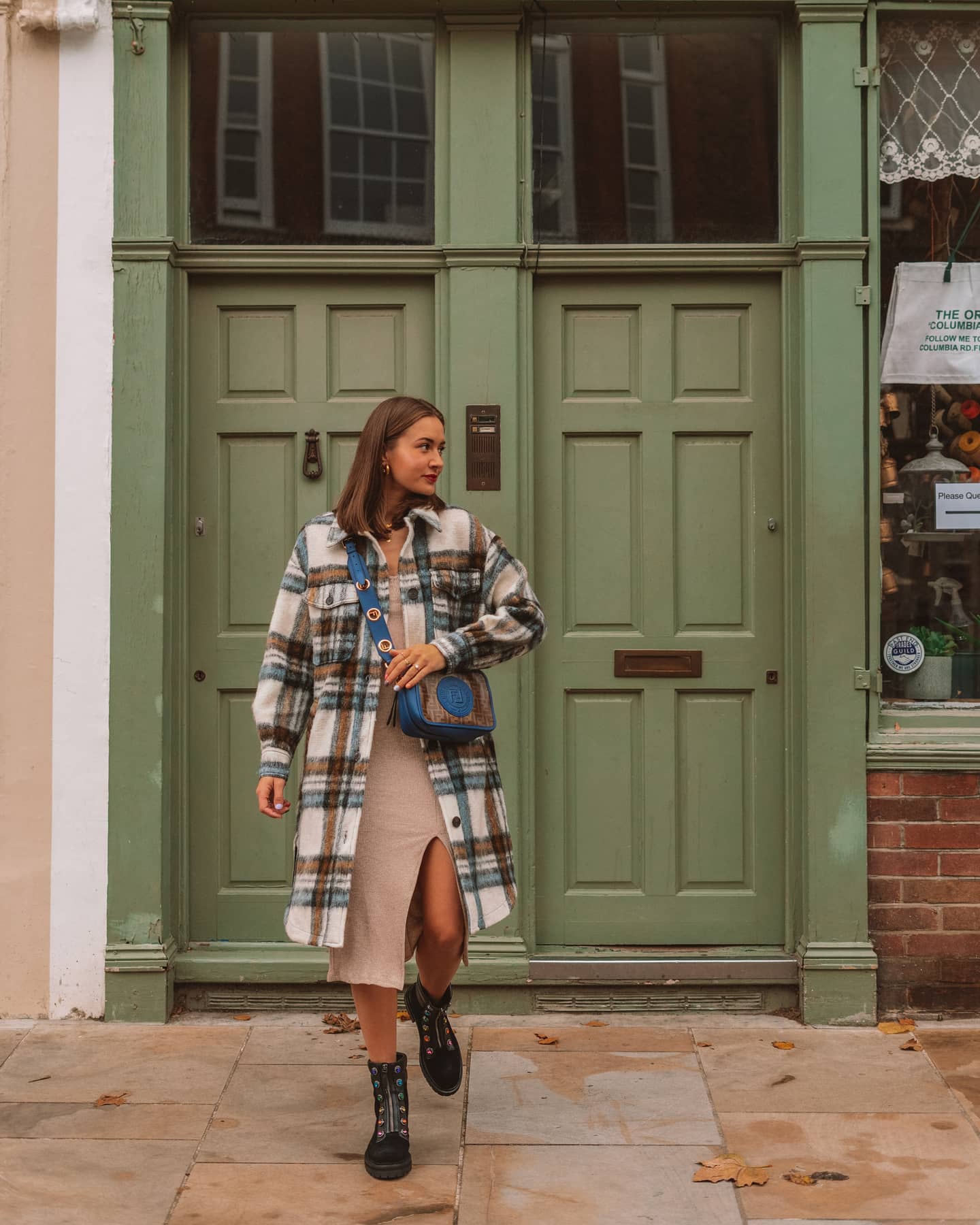 When you co-ordinate your colors with a cream, beige and another-color checked shacket over the top, you can make any fall outfit come together with a beautifully into a polished look!
2. Double-denim in darker blue washes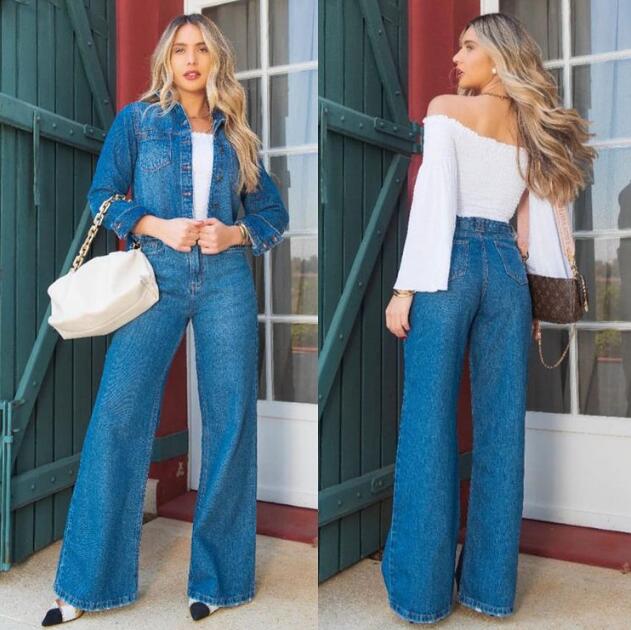 Yes, you can wear double-denim this fall, as long as you include the latest jeans and jacket cut and darker blue shades! This outfit shows exactly how to wear denim to create a smart-casual, pants suit in one color – which is a huge trend right now.
The short jacket looks fabulous with high-waist trousers and flared out, wide-legs are a great look for taller women to rock! For fall, I would substitute this pretty off-the-shoulder Bardot blouse with a fine-knit sweater or shirt. Or wear a sexy, corset top for evening wear!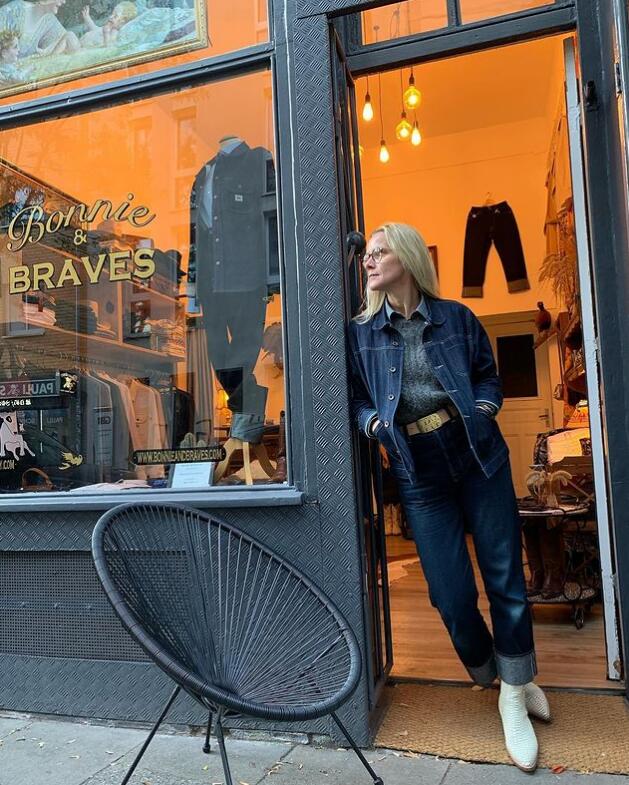 And here's a classic, double-denim style in indigo denim, which is great for fall and winter. It includes a blue shirt, under a trendy, cable textured sweater. And the stylish, camel-coloured belt is a great complementary color to break up a mono-chrome outfit in one of this fall's fashion colors!
3. How to create your own fall color match outfits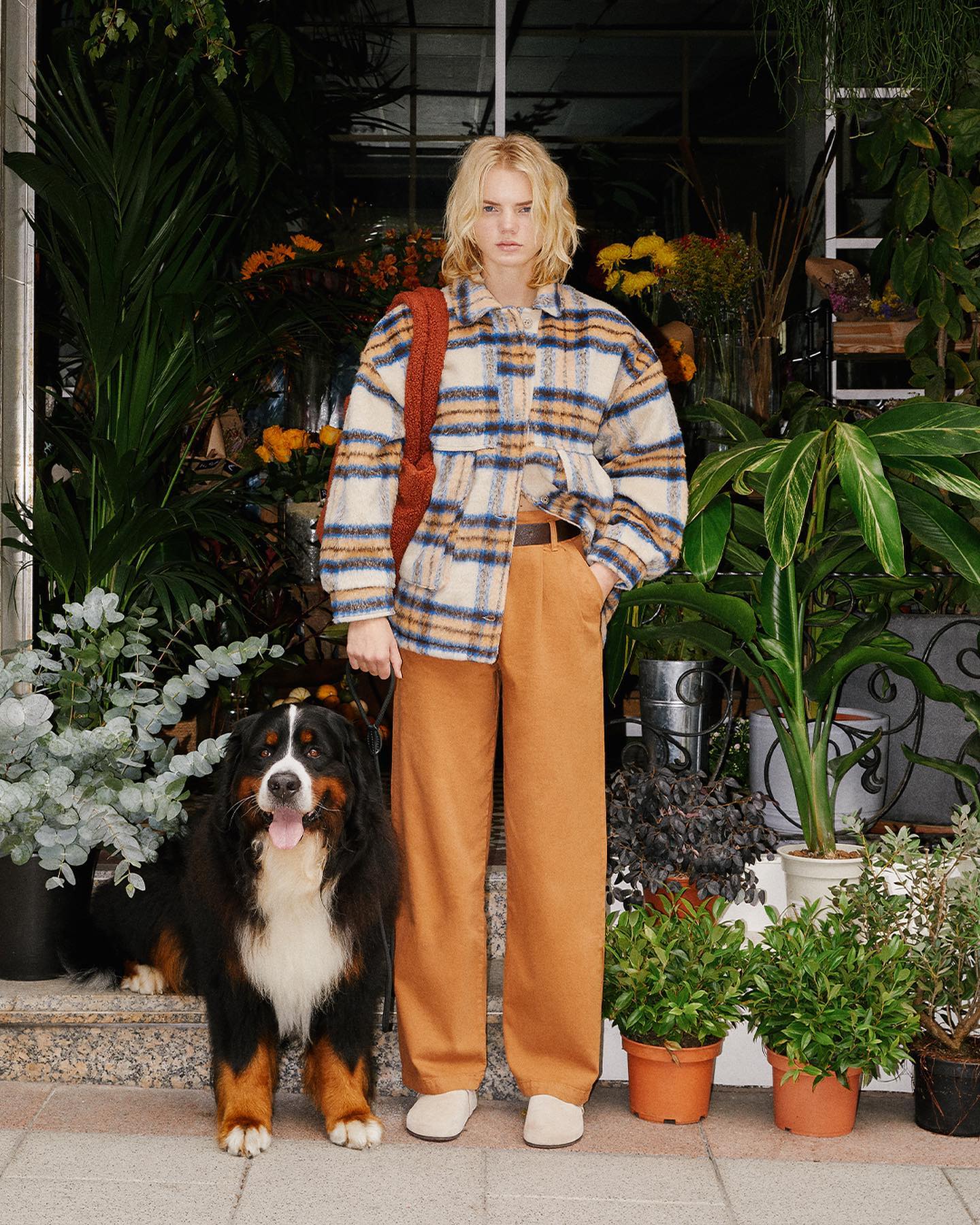 Here's a super example of the creative new looks you can achieve with the latest fall fashions in the stores right now! Find a shacket in colors that suit you, and then buy trousers and a sweater in each of the featured colors to make a fashion-shoot-worthy outfit of your own! And you should wear your new outfit with the jacket open until the colder weather hits.
This shacket features indigo-blue and orange-yellow, which are complementary colors on the color-wheel. But you can also find ones that have pink and green, brown and cream, or blue and beige checks. Then slide over to the colored denim jeans section and buy funky jeans in green, brown, pink or beige – and a sweater in the other main color!
4. Colored denim & corduroy for fall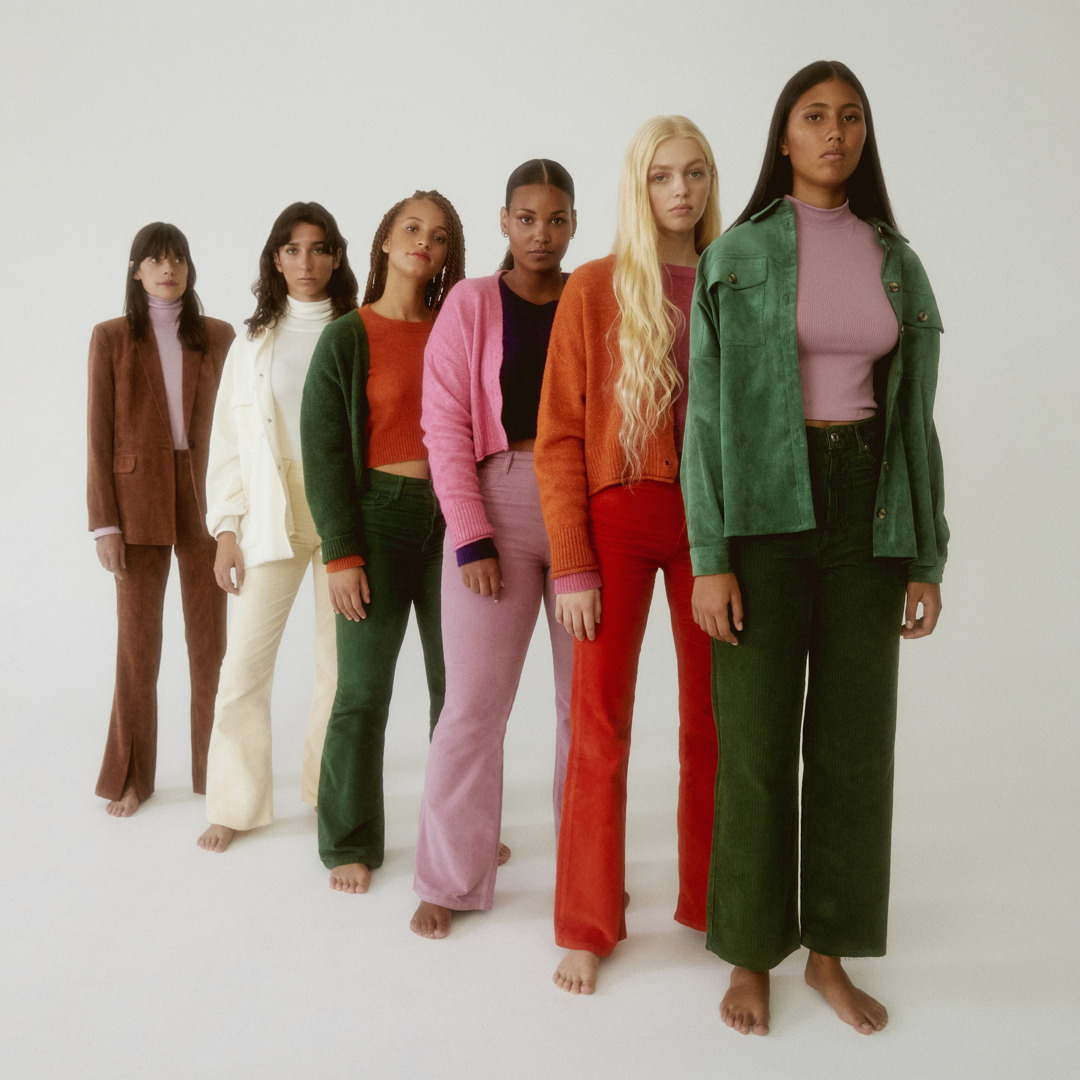 Here's a great selection of the fall colors you can find on the Hight Street right now. Plain colors are very strong this season and that's great, because you can team up your new clothes with the patterned stuff you've already got!
Good fashion sense is not only following the trend, but using new clothes to pep up older clothes and create your own personal style! And who hasn't already got a great, graphic T-shirt that would look groovy with these fabulous outfits?
5. Vintage one-color athleisure 'track suits'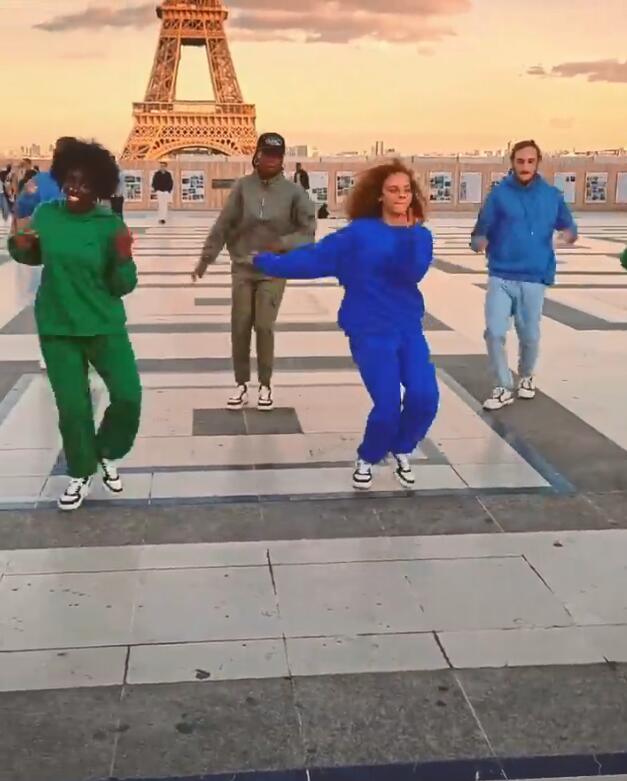 Plain one color, 'track suits' are a strong trend for autumn and winter this year. And along with forest green and medium-blue shades, you should be putting together one-color outfits in purple, plum, yellow, burnt-orange and glorious deep pink!
This fall's vintage track suit is copied from the 1950's! Originally, only professional track athletes and gym teachers wore these cosy outfits, but now everyone loves a soft, warm athleisure suit to relax in!
6. White trainers & beanie hats – stylish fall athleisure look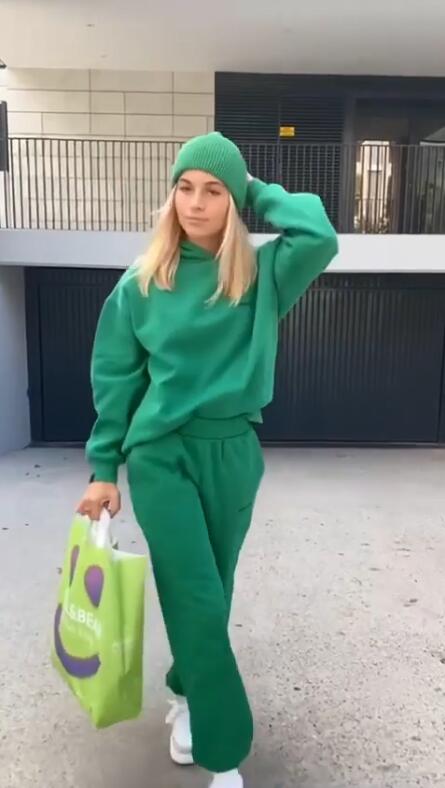 And here's more inspiration for your color-matched outfits. A warm sweat-suit, or color matched top and denims, topped off with a matching beanie hat is so comfy for wearing around town in the fall.
Whatever color outfit you choose, these bright, white trainers will fit in with perfectly! Remember, its your last chance to go out and about without a coat and high boots before winter sets in!
7. Knitted vests over blouse or shirt or sweatshirt(!)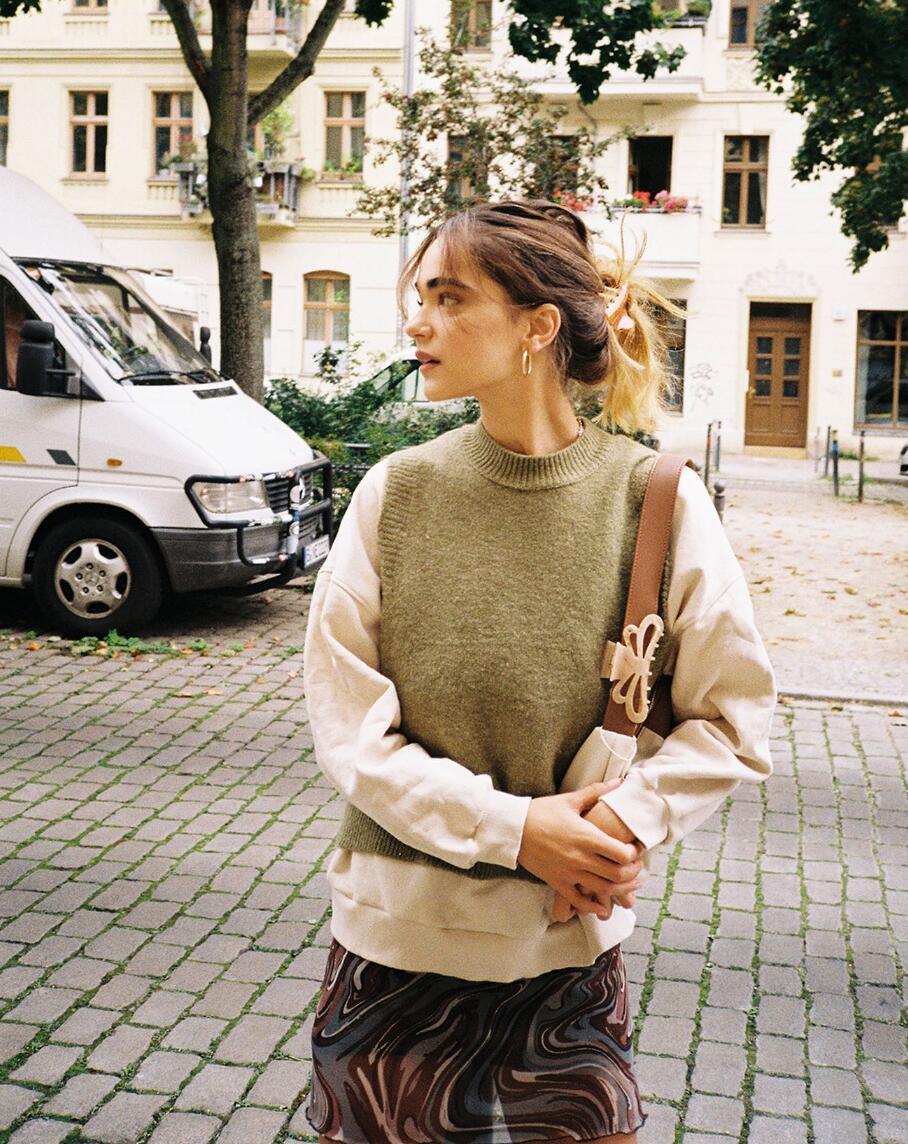 Knitted vest tops are one of the most versatile ways to show off a white or colored shirt – or a plain sweatshirt – as shown in this image. You can make the look dressy with a pretty blouse, or grungy or whatever suits your favorite style!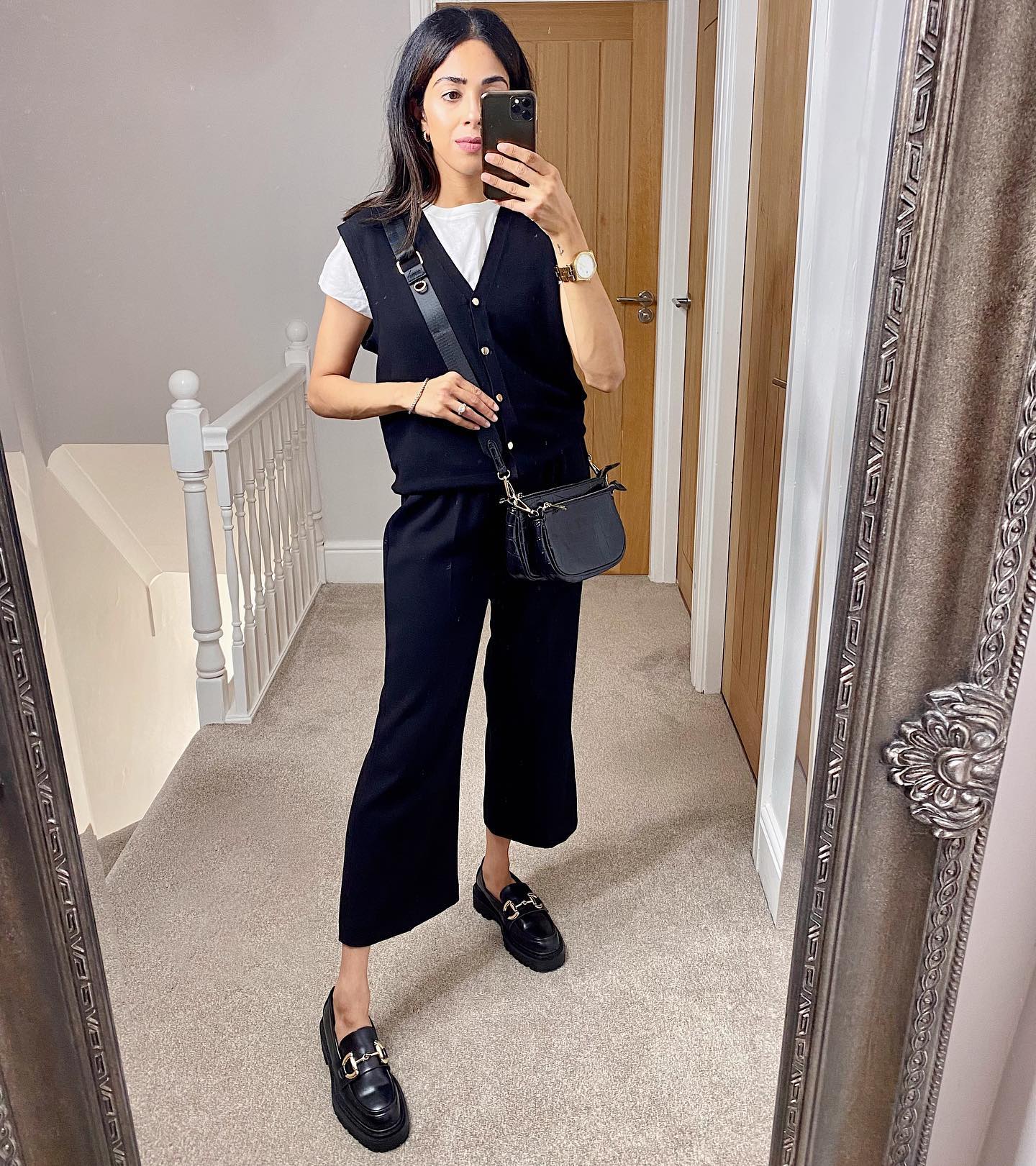 And knitted vest tops with a pencil skirt or trousers make smart work outfits that aren't too warm in bright fall weather. They just add so much extra style when slipped over any separates outfit! And you can wear sneakers, trainers, brogues or boots with this eclectic look!
8. Cream & brown ribbed cropped sweater with black jeans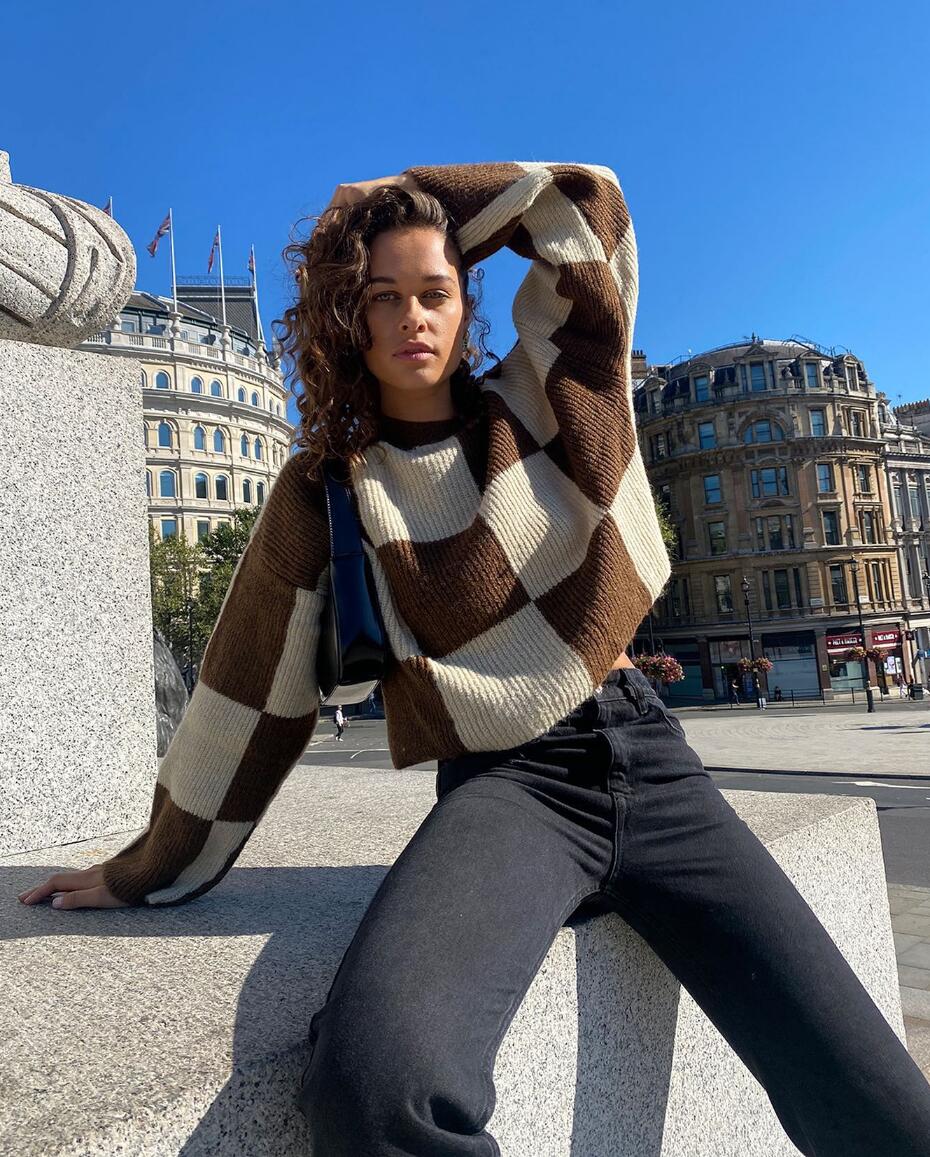 The trendy, ribbed texture and cream and brown squares make this sweater a real fashion find! And it's easy to get the right fit from a baggy, cropped, dropped shoulder jumper like this. It's trendy and unusual, so matched with black or burnt orange/tan denim or corduroy trousers, you can use it to create several fresh, fall fashion outfits for everyday wear!
9. Figure-flattering ribbed and color-block sweaters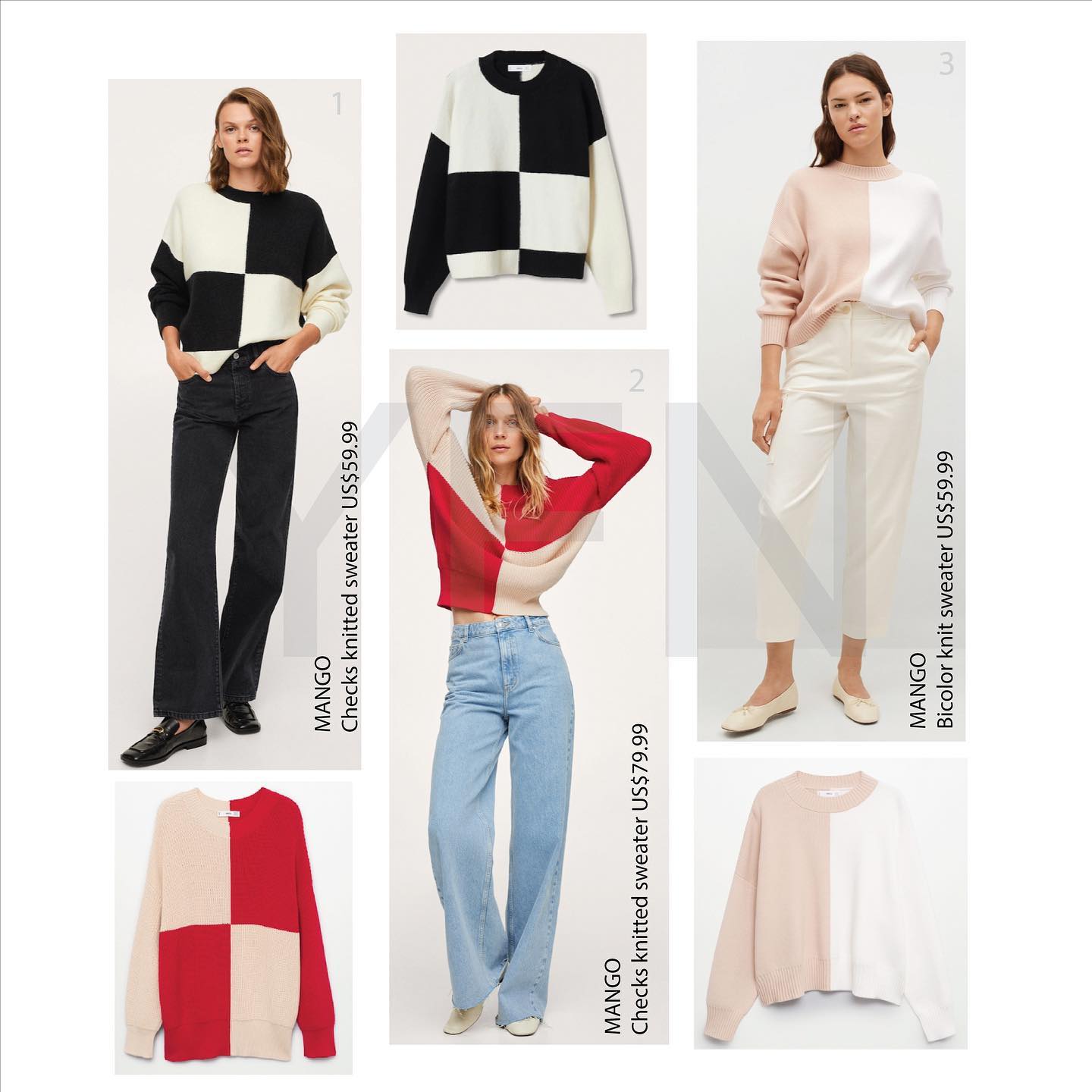 Woolly sweaters for this fall are often turtle necks, but polo-necked sweaters are back, too. And texture is a key feature of many trendy sweaters for this autumn and winter. So look out for slimline ribbed, polo-neck sweaters designed to be tucked into your skirt or trousers.
Another big trend is jumpers with either large color blocks or narrow stripes that are echoed on the sleeves! Bat-wing sleeves are creeping back on cropped sweaters, which hover nicely over your waist in high-waist trousers.
10. Fashionable fall midi-skirts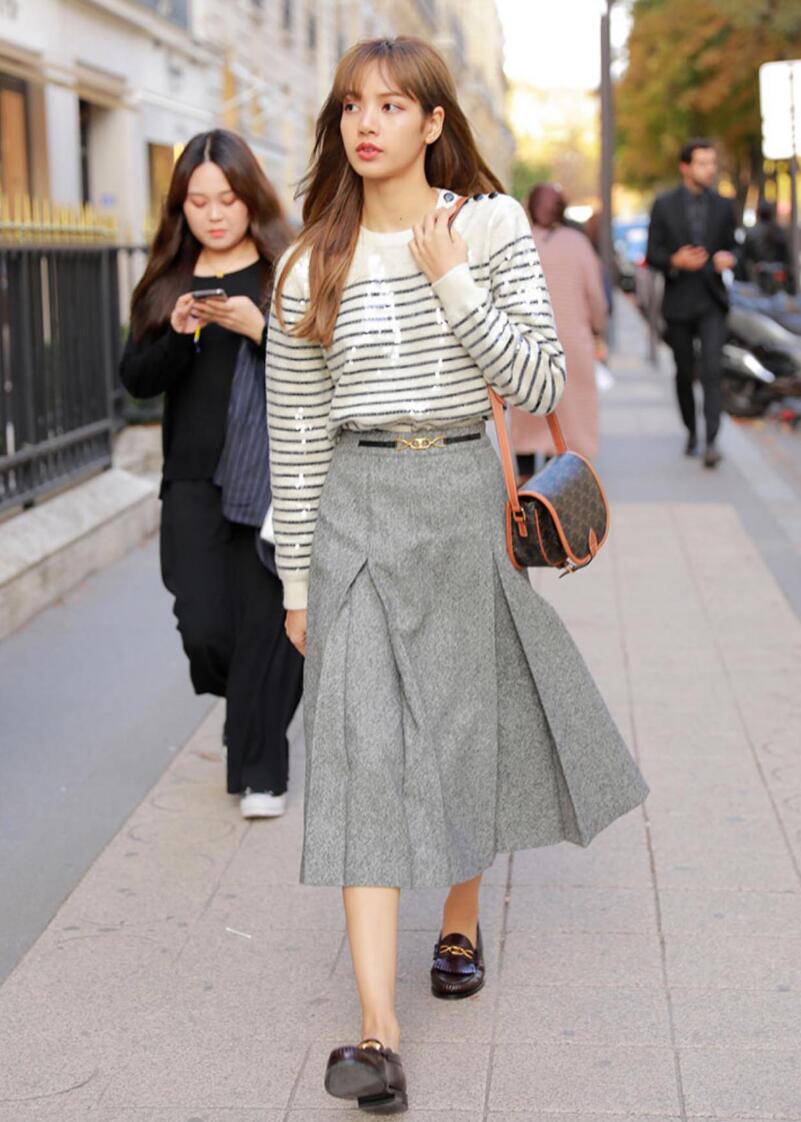 And what looks better with a skinny-rib sweater than a below-the-knee skirt? Flared, pleated and straight midi-skirts look fantastic with a tucked-in blouse or ribbed sweater. Or any fine-knit sweater tucked in! Wear neutral colors with a brown shoulder bag and brogues to get a stylisth, dark academia look!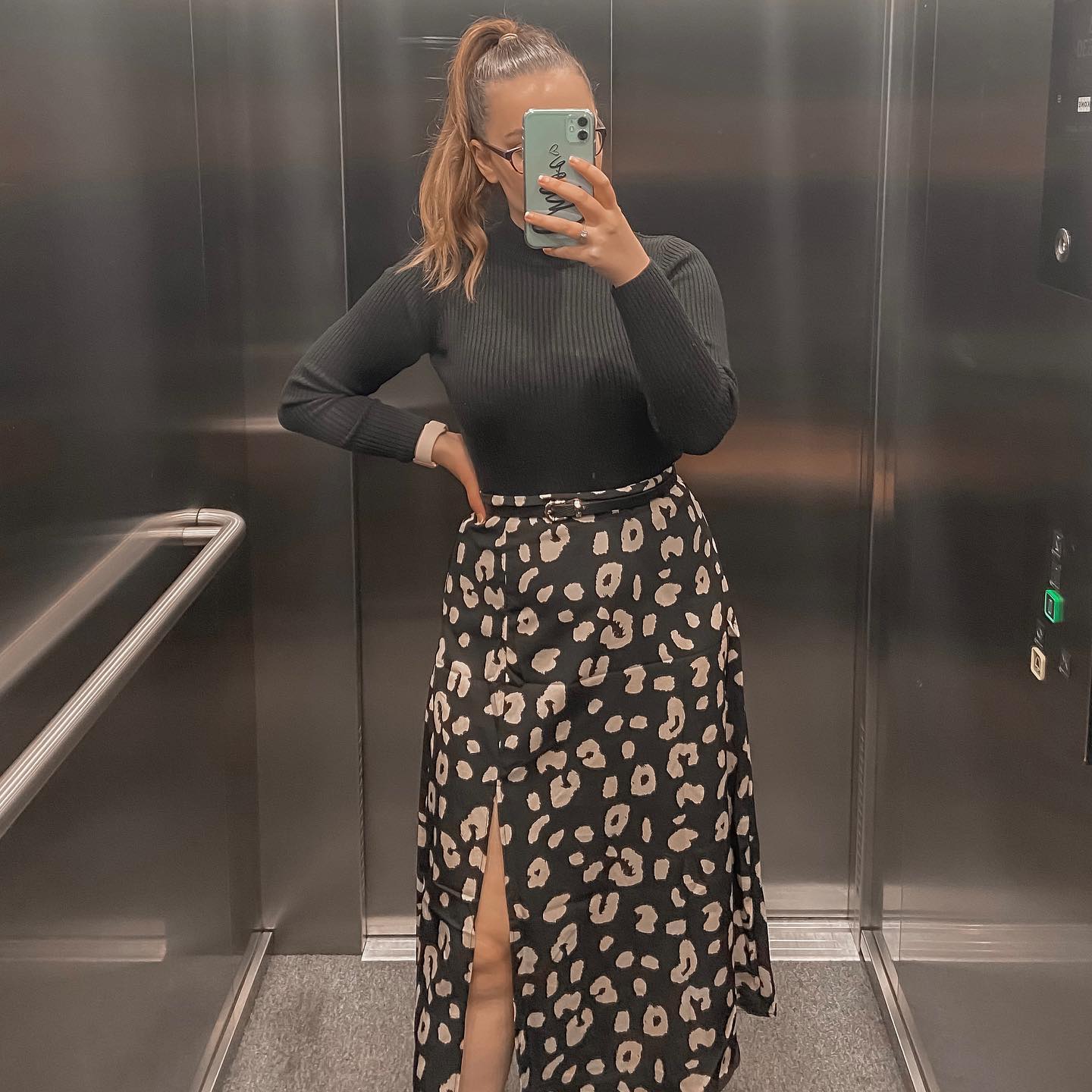 And midi-skirts with slits are here again, so you don't have to feel frumpy – no way!
Fall Styling FAQ's
1. How can I decide which fashion style is right for me?
Collect a few images of women with roughly the same body size and shape as yourself, wearing outfits you love! Fashion is only a guide and the most stylish women always wear a mixture of classic pieces and fashion items – that flatter their size, shape and outlook on life.
2. I'm going back to the office this fall and don't know what I should be wearing! Help!
The main changes to affect fashion in the last couple of years are the switch to high-waisted trousers, which always brings back tucked-in tops, sweaters and shirts. And automatically, this creates a neater, smarter look. So leave your baggy, athleisure and skin-tight clothes at home and aim for style rather than high-fashion for professional wear. This would include wider-leg trousers, midi-skirts and textured or ribbed sweaters, rather than sweats and jeans.
3. Will all-one-color outfits suit my body-shape?
There are lots of fall fashion images showing models wearing mono-chrome outfits, which could be a forest-green, plain sweat-suit or purple jeans with a purple top. And this is not a good look for everyone. If you're small and slim, fine! All-in-one colors are great for petite women and can make you look taller.
However, if you're taller or a bigger size, you may want to break up the color-block to distract attention from your height or different parts of your anatomy. And that's where graphic t-shirts, patterned shirts, checked/striped/textured sweaters and different colored trousers, jeans and skirts come in! Fashion is a guide for you to interpret to suit your look!
So are you ready to make some changes to refresh your fall, fashion wardrobe? What's your favourite new trend? Let us know what you think of the latest looks – we love hearing from you!
Source link